Tips for Mold Remediation in Toronto
Published on December 22, 2021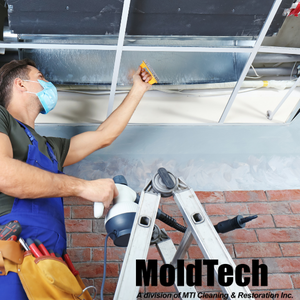 Do you do an annual attic cleaning? The truth is, most homeowners don't, and it's okay — because, at MoldTech, the far more critical annual attic task is a mold inspection. This yearly service can spare you the stress and mess of mold remediation in Toronto by catching any new mold infestations and identifying attic problems before they get out of hand.
What is Mold Remediation?
When we talk about mold remediation, we're referring to the process of safely eliminating indoor mold growth from the air and surfaces of a home or building. Mold can grow nearly anywhere in your home, from the attic mold to basement mold to bathroom mold, but there are easy to recognize issues that may encourage its growth.
Mold remediation in Toronto is essential for several reasons. The first is that mold can cause extensive and expensive property damage. It can destroy insulation, leaving your home cold and drafty, as well as weaken key architectural elements.
Secondly, and most importantly, mold is dangerous to human health. Mold spores are nearly impossible to see and are easily breathed in through the mouth and nose. In and on the body, mold causes inflammation and irritation — if you're lucky, this will manifest in cold and flu-like symptoms, such as itchy eyes, congestion, and sneezing. However, many people experience headaches, fatigue, and cognitive difficulties. If you're already struggling with chronic health conditions, exposure to mold growth can even lead to hospital stays or more severe health outcomes.
How Does Mold Remediation Work?
At MoldTech, our mold remediation service is led by over a decade of experience and professional training in the field. Through our professional affiliations with organizations such as the Institute of Inspection Cleaning and Restoration Certification and National Association of Mold Professionals, we follow the latest guidelines and science about safe and effective mold removal.
Mold remediation usually begins with a thorough visual and physical inspection to assess the scope of the issue. Then we'll safely contain the work area with physical barriers and run industrial quality air filters to remove any spores we stir up. There are several ways we remove and treat the surfaces of your home affected by mold: one method we might use is a non-toxic biological cleaning agent.
All mold-affected materials are safely removed and discarded, and we thoroughly clean before we wrap up — we guarantee your home will be spotless!
Tips to Prepare for Mold Removal
One of the things we don't recommend before mold removal is doing any tidying up. One of the quickest ways to spread mold is to do a little attic cleaning before we arrive. Mold spreads incredibly quickly and may hitch a ride on a sponge or broom to start an infestation in a different area of your home. Do, however, prepare by moving heavy furniture away from affected walls or doing general tidying to make sure we have space to work. Questions about mold removal in Toronto? Call us at MoldTech to learn more about what we do by accessing our contact page.