The Myths About Mold Remediation in Toronto
Published on December 01, 2021
Sharing the discovery of household mold can elicit a range of opinions from friends and neighbours — not to mention scary myths and stories about mold remediation in Toronto that'll have you wanting to move out! MoldTech has heard all of these stories and then some — and we're here to tell you not to put out the for sale sign just yet! Mold inspection in Toronto will prevent surprise mold infestations and eliminate the problems that trigger mold growth. Here are six true facts about mold.
Mold Is a Serious Problem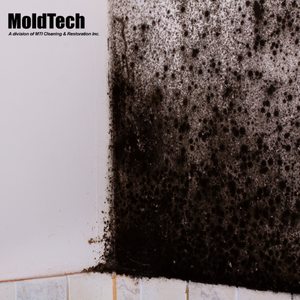 One thing we often hear is a casual approach to mold growth: you'll get to it eventually, or it "isn't so bad" — but mold growth is deserving of a serious approach. Mold can cause thousands of dollars in property damage and serious health effects in a relatively short period. Mold doesn't want to "just go away," and like any organism, it'll hide, come back, and spread unless it's permanently removed.
Mold Causes Health Problems
Most people experience mild mold-related symptoms, like sneezing or headaches. But not much is known about long-term exposure. For people with even the slightest sensitivity, mold can begin affecting sleep, concentration and cause irritating cold and flu-like symptoms. If you have asthma or other chronic respiratory visits, mold exposure has been shown to cause more frequent attacks and hospital visits. Living in a home chronically and severely affected by mold growth has even led to some deaths.
Mold Doesn't Just Affect Your Breathing
While the primary way mold affects your health is through your respiratory system, plenty of MoldTech clients report other effects like itchy skin, hair and nail problems, and conjunctivitis. We've already mentioned that sleep and concentration are often affected, but evidence suggests mold can affect cognition on many levels.
Mold Affects More Than What You See
A mold problem usually goes beyond what you can see during a visual mold inspection in Toronto — most molds grow into the materials they affect, making remediation challenging. Additionally, mold tends to grow out of sight behind walls and under heavy furniture or appliances, resulting in many mold infestations staying hidden for many years.
Professional Mold Remediation is 100% Worthwhile
Many websites suggest mold is easy and safe to remove yourself, but MoldTech never recommends removing mold growth yourself — and not just because we're in the business. Mold can easily spread when it's disturbed or hitch a ride on a sponge or tool to another room. Many of our clients come to us after unsuccessful DIY removals, costing themselves time, energy, money, as well as risking their safety in the process.
Professional mold remediation in Toronto takes a full-picture view of your home and any mold issues that we find. MoldTech doesn't just remove the mold growth; we help you solve the underlying cause and make easy changes to prevent re-infestation. To learn more about our services and arrange for a visit with our technicians, check out our contact page for ways to get in touch.