Mold Removal in Toronto & GTA
Don't settle for anything less than perfect!
At MoldTech, we have honed the remediation process to perfection. It makes sense, since this is all we have been doing every day for well over a decade. When our mold removal work is complete, you can be certain that the work space is going to feel, look, and smell fantastic and have perfect air quality.
Our technicians are certified and trained to get the job done right. We follow the latest industry protocols and safety standards for all mold removal projects. We service residential, commercial, and industrial sectors, and have experience working with insurance companies, realtors, home inspectors, property managers, and engineers. We can help you understand your unique situation, with qualified instruction on the best solution possible.
Our mission is to provide you with a healthier living space by making your air quality dramatically cleaner and mold free.
The Signs of Mold Growth in Your House
Before you have a mold removal in Toronto, you need to know if you have mold growing in your home. There are both visible and invisible signs of mold growth in your home and it's important to recognize them early. The best tool for preventing mold is an awareness of the signs and problems that lead to its growth, and quick action in the event it's discovered.
Some of the common signs of mold growth indoors include:
Allergic reaction: While everyone responds differently to mold growth, the most frequently reported reactions include sore, itchy eyes, sneezing or nasal congestion, and headache. If your allergies seem worse when you're at home or in a particular room, it may be mold causing the reaction
Smell: Your nose can often be the best indicator of mold and a sign your need a mold removal in Toronto. Mold has a distinct musty odor, and because it can sometimes grow unseen behind wallpaper, underneath carpet, or inside the walls, a persistent odor might be the first sign you have a mold problem.
Visible Growth: Mold can come in many different shapes, sizes, and colours, making it sometimes difficult to identify with your eyes and easily dismissed as dirt or scuff marks.
Water trouble: If you've recently had a leak, flood, or other water problems in your home, now is an excellent time to book a visit with a mold inspector. In most cases, mold growth inevitably follows water leakage, regardless of the size or scope of the leak. Condensation in your home should also be questioned - this points to a humidity problem, and that airborne water can easily condense behind walls or in the attic and cause trouble down the road.
Mold Toxicity: In rare cases, toxic strains of mold can grow in your home and cause severe health trouble ranging from headache to dizziness, and can send vulnerable family members to the hospital.
The only way of ensuring you won't need a mold removal in Toronto is prevention. At MoldTech, we're happy to remove mold and thoroughly remediate your home, but if you don't fix the source of the mold growth, whether it be humidity or a water leak, mold will return and begin to grow again.

Preventing mold growth from returning involves:
Identify leaks, areas at risk for flooding, condensation, and moisture and correct them immediately.
Dry out any wet areas immediately, paying close attention during rainstorms, the spring thaw, or even after a bath
Ventilate your kitchen, bathroom, basement, and attic properly to ensure airflow to help keep things dry.
Use mold and water resistant products
Reduce indoor humidity
Properly grade your home so that water runs away, not towards, your basement
If you are concerned about an area in your home, give us a call at MoldTech, and we'd be happy to book you an inspection or a mold removal in Toronto. Prior to any removal, a technician will visit your home and offer a free visual mold inspection or recommend a thorough mold test to identify and accurately locate any problem areas. A professional mold removal in Toronto is the only way to completely ensure that mold is safely and completely removed, and is a valuable tool in ensuring the safely of your home and family.
Mold Removal simplified:
Isolate the work space.
Pressurize the work space.
Remove mold impacted materials from the work space.
Clean the work space.
We start by isolating the work space to protect occupants from the demolition work common to mold removal projects. The last thing we want to do is have mold covered demolition dust migrate to unaffected areas of your home or office. Our perfect constructed barriers will prevent this from happening and keep you protected.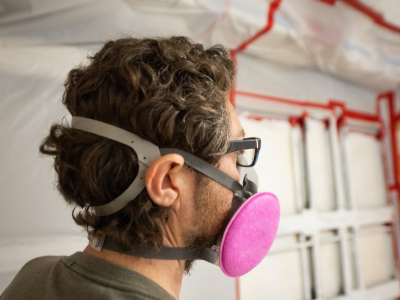 By pressurizing the abatement area, we force the dust created during the mold removal process to head in one direction - towards our industrial grade filtration devices. Mold removal work requires that we enter and exit the workspace through specific designated throughways, and pressurization ensures that our crew can exit safely while the mold remains behind.
Removing mold impacted materials can change from project to project. Whether it's drywall, framing, insulation or carpeting you can be sure we'll remove it in the safest and most efficient way possible. When able, we do our part to divert recyclable materials from our landfills. We separate and bag the mold free materials (wood/drywall) from the bad during remediation and take it to a qualified recycling and waste transfer facility.
When we say clean, we're talking about *MoldTech* clean. Our technicians take cleaning seriously and work hard to separate us from the competition. There are easier ways to complete a mold removal project and certain shortcuts that we could take, but we choose to double the workload and double the requirements from the latest mold removal protocols and standards.
Our final steps are your first impression, and we want the workspace to be perfect.
Note: If you already have a scope of work prepared, we can work closely with your consulting firm to make sure every requirement is met or surpassed. We can co-ordinate clearance testing*, pre remediation and post remediation site walkthroughs with them as needed to give you peace of mind and a few less things to worry about.
* Clearance testing is a follow up inspection by a qualified third party that usually requires air sampling to be performed in the workspace to ensure the spore levels are acceptable.
For more information about our mold removal services, contact us today.