How to Remove Attic Mold Properly
Published on November 13, 2020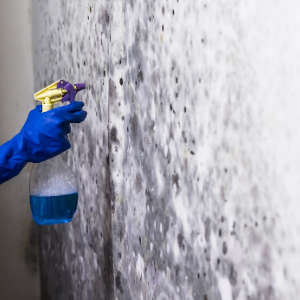 With only a tiny access hatch hidden away in a closet, there's often little incentive for the average homeowner to spend much time in the attic. But in our business, a little attention can go a long way in preventing an attic mold removal from being a part of your future. The attic is one of the most common places for indoor mold growth, due to a number of factors both in and out of your control. The good news is that avoiding mold remediation in Toronto isn't hard - read on to learn how to get rid of attic mold for good.
Signs of Attic Mold
Visible mold growth is the most straightforward path to mold identification - but what if you can't see it, or, like in the attic, it's dark or difficult to reach? There are a number of common signs of attic mold that you might notice in your home, such as:
the feeling of being constantly sick with a cold or flu
a musty odor
dampness or increased humidity
sagging ceilings
poor temperature control
How It's Caused
Mold growth in the attic can be caused by many different conditions or events, but the one constant is moisture. Water can get into the attic in many different ways, from roof damage or rising indoor humidity to improperly routed vents. Condensation can form on the roof sheathing and drip onto insulation or other organic materials, which is what mold likes to grow on. This is why we always encourage our clients to store nothing in the attic - cardboard boxes, old toys, and textiles are often the first to succumb to mold damage.
How to Prevent It
Preventing a mold outbreak in the attic is important! Prevention protects your health and ensures that your house or possessions aren't damaged, but it also improves indoor air quality, energy efficiency, and more. Bi-annual mold inspections are a great way to keep an eye on things, but making changes such as sealing air leaks, keeping your roof in good repair, and properly ventilating your attic can make a huge difference. Ultimately, each attic needs personalized attention to reduce the risk factors unique to your home and neighbourhood.
Hire a Professional
When facing attic mold, the best way to ensure it's gone for good is to hire a professional mold remediation company in Toronto. Not only do we have specialized tools, but we also have the knowledge and ability to remove every last spore, keeping your family safe during and after the remediation. Mold is incredibly easy to disturb and spreads rapidly through the air and on clothes and tools.
When it comes to attic mold removal, professional remediation helps you identify the cause, safely and thoroughly remove the mold, and keeps you and your family safe throughout. For more information on mold remediation in Toronto, get in touch with our team at 1-866—684-7684.
More information on mold: