Why is the Attic a Breeding Ground for Mold?
Published on October 15, 2020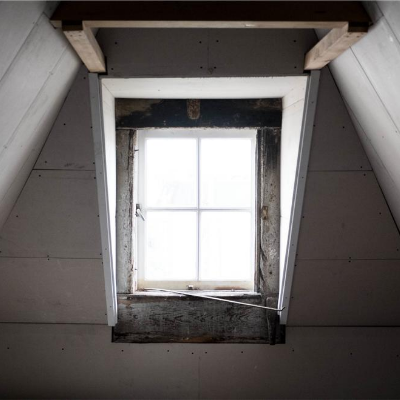 There's one key reason why attic mold removal is the most common service we perform, and that's because the attic is out of sight and out of mind. The average homeowner has little reason to visit their attic on a regular basis - the hatch is usually hard to reach, small, and there's little to see and do up there. But regular inspection can save you a huge headache down the road, since an untended attic can very quickly become infested with mold growth. Want to know why attics grow mold? Read on the top four causes of attic mold.
Roof leaks
Water that gets through your roof from leaks or damage can very quickly start a mold infestation. After high wind, big storms, a rapid freeze/thaw, it's always a good idea to inspect your roof and the attic for problems, because tree branches, debris, and temperature change can all cause damage.
Poor ventilation
The most common reason that people need attic mold remediation in Toronto is that their attics have poor ventilation. This may be because of the way your home is built or the type or age of insulation that's installed. Whatever the reason, poorly ventilated attics often experience moisture buildup in the form of condensation, and this excess water feeds mold growth that damages your home and contributes to higher heating and cooling bills as well as inefficiency.
Appliances
Some older homes may have water heaters or other appliances installed in the attic. While this may save your space in your basement or garage, any heat generating appliance can attract and retain moisture through condensation or humidity - not to mention leaks or breakage. A healthy attic has insulation in it - and nothing else.
Exhaust Fans
Kitchen or bathroom exhaust fans should always be routed to the exterior of your home - but we've done plenty of attic mold removals where the piping leads straight into the attic. This means that instead of taking that warm, moisture laden air out of your home, the fans are delivering it straight to the attic - where it will cause mold growth and safety issues. Always vent fans to the exterior of your home!
Reduce Indoor Mold Growth
Now that you know what the top four causes of attic mold are, you can easily do a quick visual inspection for these common problems. If you notice an issue with condensation or an improperly routed vent, it might be a good idea to have a mold inspection performed in your attic to make sure there is no hidden mold growth. Attic mold removal has a number of knock down effects, from better sleep and fewer asthma attacks or respiratory issues, to a more energy efficient home. For more information on attic mold testing in Toronto and the GTA, get in touch with us for a free visual mold inspection at 1-866-684-7684.
More Information on Attic Mold: