Preventing Mold in the Home
Published on November 04, 2020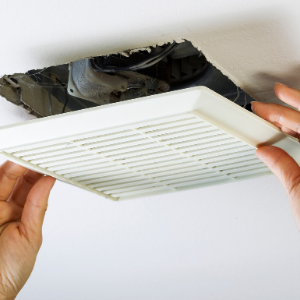 Avoiding mold removal in Toronto comes down to one key action - prevention. The most common cause of mold growth in GTA homes is an excess of indoor humidity - but knowing what causes humidity and how you can safely reduce it and prevent mold growth isn't always clear. A mold inspection in Toronto can help you find ways to prevent mold growth in your home and identify areas where mold has already taken hold.
Step 1: Identifying Problem Areas
Knowing where and how mold likes to grow in your home is key to preventing it from happening. Luckily, mold favours certain areas and conditions that are easy to recognize, such as:
the bathroom
the basement or crawlspace
the laundry room
the attic
The common factor in all these areas is water, and whether it's from a leak, flood, or humidity, moisture is a major warning sign. Mold spores can bloom into mold infestations in as little as 48 hours after moisture is introduced.
Step 2: Avoiding Moisture Buildup
In rooms where there is a high likelihood of moisture buildup, preventing excess water is the best way to avoid mold removal in Toronto. In the bathroom, exhaust fans can be installed to whisk moisture-laden air to the outside, and in basements or crawlspace, a dehumidifier can help dry out the environment.
Sometimes moisture comes from the outside, like a flood or damage to your home or roof, while in other instances, it's related to your home's construction, age, or insulation.
Step 3: Ongoing Prevention
Once you know what rooms in your home are at risk, there are a number of things you can do to prevent mold growth. The best way is simply to check often - adding a quick visual mold inspection to your seasonal to-do list is the best way to notice a new leak or funny smell that wasn't around a few months earlier. A once-yearly professional mold inspection can't hurt either - like other regular maintenance activities, a professional once-over may save you thousands of dollars by identifying hidden mold growth.
Professional Mold Prevention in Toronto
Even with the best prevention tools in place, mold growth can still happen for a variety of reasons. Some neighbourhoods are particularly prone to flooding, while others fall victim to mold growth simply because of the age of the buildings or other geographical reasons. Regardless of the cause, professional mold removal in Toronto is the only way to safely and effectively remove mold growth from a home and ensure that it doesn't return.
Mold doesn't only cause damage to your home, it's also a serious health concern - airborne spores irritate the airways, disturb sleep, and disproportionately affects children and elders. For more information on how mold affects your health or what we do during a mold removal in Toronto, give us a call and we'll be happy to tell you more - a technician can be reached at 1-866-684-7684.