Should I Hire a Professional for Mold Removal?
Published on September 09, 2020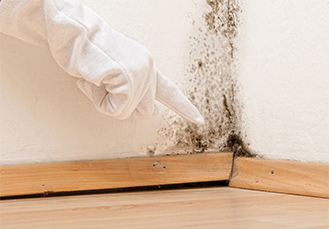 If you need an attic mold removal, it's best to consider hiring a professional for the job. While hardware stores have a range of products, tools, and solutions for removing mold at home yourself, some of these products have a short-term impact making the long-term effects of a DIY mold removal not great. Indoor mold growth poses a serious health and safety risk that a DIY remediation can potentially make worse, which is why we always recommend professional mold remediation in Toronto.
What is Mold Removal?
Mold removal - also known as mold remediation - is the safe process in which mold is removed from objects or areas that it is growing on. This process can involve organic and inorganic cleaning agents and manual removal processes like scraping.
Mold removal is more than just getting rid of mold growth! A good mold removal should also focus on finding the cause of the infestation and eliminating it so that mold growth doesn't happen again. A great mold remediation is only possible using a professional's experience, tools, and expertise to make sure you and your family stay safe during and after the removal process.
Don't DIY Mold Removal
Mold spreads by creating small spores that are easily stirred up into the air. Household and attic mold removal should always be done by a professional to prevent these spores from travelling in the air, on your clothes, or on remediation tools to other areas of your home. Not only is it very easy to accidentally spread mold, but the chemicals available at hardware stores aren't strong enough to do the job, and often only kill surface mold and leave damage or discolouration to the remediated areas.
Hire a Professional!
In contrast, a professional mold remediation in Toronto ensures that you have access to our experience and knowledge about mold removal, gained through hours of on the job and in the classroom training. A professional mold remediation ensures your safety too - at MoldTech, we bring industrial quality air scrubbers and safely contain our workplace to prevent mold spores from travelling to other parts of your house. We also safely bag and remove contaminated materials, leaving your home clean and dry.
The Dangers of Mold Removal
The dangers posed by DIY mold removal are not worth it - while it may be cheap to do it yourself, the risks to your health, the high likelihood of cross contamination, and the damage that you can do to your home can cost a lot more in the long term. A professional mold remediation with MoldTech ensures that it's done right the first time - unlike a lot of other businesses, we'd rather not have repeat customers! A complete mold removal in Toronto or the GTA can help you make your home safe and protect the respiratory health of you and your family. For more information on attic mold removal or mold remediation in Toronto, get in touch with us for a free quote at 1-866-684-7684.