Tips for Keeping Mold Out After a Flood
Published on August 16, 2022
Due to climate change and the increase in harsh storms, many neighbourhoods in Toronto are struggling with annual or seasonal flooding. After a flood, MoldTech receives dozens of calls from worried homeowners who need mold remediation in Toronto. While we can't help stop the water, there are plenty of ways you can prepare your home for severe weather and avoid a mold inspection in Toronto. If you've had water damage or want to protect your home in the future, MoldTech would love to help you.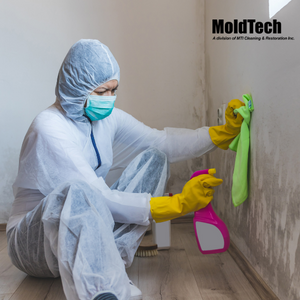 Here are our top tips for keeping mold out after a flood.
Tips for Keeping Mold Out
Stop the flow: The water's come pouring in — now what? Before you pick up the phone to call us, start to dry the area out. Get a mop or towels and begin to soak up the water. If a burst pipe or leak is the cause, turn off the water or get a bucket to collect drips. Mold can grow as little as 48 hours after contact with water, so the sooner you dry it out, the more likely you are to avoid mold problems.
Create a breeze: To help dry up the moisture, open windows or use fans to start air movement. Good ventilation is the best way to prevent mold in any situation, and many home improvement stores rent box fans that do a great job. Open cupboard doors and move furniture to promote air movement in all areas.
Remove wet items: If portable objects are in an area affected by water, move them elsewhere to dry them out. Many items, like textiles, paper, carpets or drapes, can hold on to moisture for a long time and must be thoroughly dried before they're returned.
Get a mold inspection: Even if you do all these things, your best course of action is still to get a mold inspection in Toronto. At MoldTech, we know just how sneaky mold can be and that even the best prevention methods can still result in hidden mold infestations. Our tools and expertise can give your home a clean bill of health or find the mold that got away, letting you eliminate it well before it can become a serious problem.
How Professional Mold Removal can Help
When we discover mold growth, our advice is always to have it safely and professionally removed as soon as possible. Because it can be so fast-growing, mold can quickly spread from the basement to the main floor (and beyond), wreaking havoc on indoor air quality, comfort, and health. Floods can bring a host of nasty bacteria and other unwanted problems, but a quick clean-up and mold remediation in Toronto will help get you back on track. Though we can't stop floods from happening, the MoldTech team will provide helpful tips, suggestions, and recommendations based on your home's shape and layout to prevent further issues with water or moisture and help keep your home mold free.
To learn more about water prevention in your home, contact the team at MoldTech.