The Dangers of DIY Attic Mold Removal
Published on December 16, 2022
A strange smell or soggy ceiling is often one of the first signs that you need attic mold removal. But before you jump into a DIY project, the MoldTech team wants to share some of our experience gained from performing mold remediation in Toronto to show you why the professional approach is better in the long run.
3 Reasons Why DIY Mold Removal Doesn't Work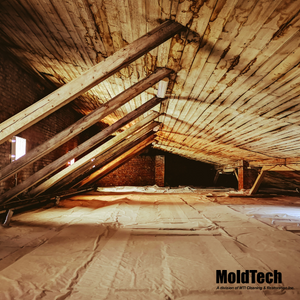 Releasing Mold Spores: Mold releases tiny spores when disturbed — these spores are essentially seeds and can form new mold colonies when they land. Spores are also one of the substances that cause allergic reactions to mold, and can irritate the skin, eyes, nose, and respiratory system.
Professional mold removal ensures that spores do not spread beyond the original infestation. At MoldTech, we use barriers, PPE, and industrial-quality HEPA filtration to capture every last spore so that no new mold infestations are possible.
The Impact to Your Health: Mold causes various physical effects ranging from itchy eyes and headaches to severe respiratory issues and worsening chronic conditions. This is why safety is vital at MoldTech and why we strongly recommend professional attic mold removal. The various safety strategies we employ, whether it be spore reduction, the organic biocide we use, or other materials and testing methods, all foreground human (and pet!) health and safety so that we can be sure everyone is protected before, during and after removal.
Inadequate Removal and Remediation: We've been into many attics where DIY mold removal has gone very, very wrong, and it's usually because of two things: inadequate removal and remediation. It's very easy to miss a patch of mold growth or leave behind the roots of a colony. In addition, mold removal products available at hardware stores are generally ineffective and not strong enough to eradicate mold for good.
Why Mold Removal Needs to be Done by the Pros
Even though you may be great at DIY projects or an accomplished handyperson, mold remediation in Toronto is still better left to us, the professionals! While safety, equipment, and mold removal materials can all be purchased at the hardware store, you also benefit from our experience, training, and professional-grade equipment during a MoldTech mold removal. You're also getting our expertise in identifying the cause and reasons behind mold infestation, which is the most crucial part of mold removal — after all, it's a job best performed once!
Work With MoldTech to Clean Your Attic
If you've identified an attic mold problem, calling MoldTech should be your next step. We'll perform a thorough attic mold inspection, identifying the where and why of any mold colonies we find. Mold can be a complex problem affected by your whole house, inside and out, and this careful mold inspection can help us get to the root of the problem. Once we've set a date to begin the attic mold removal, we'll ensure we arrive promptly and work efficiently to minimize the disruption to your home and day. And once we're done? It'll be like we were never there to begin with, because nothing beats a MoldTech clean.
Speak to one of our technicians about mold remediation in Toronto or schedule an attic mold inspection.