The Cost of Mold Remediation in Toronto
Published on November 08, 2021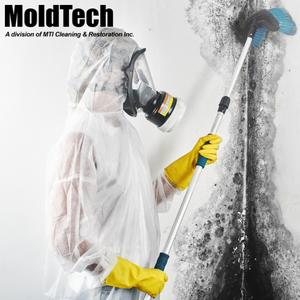 Black mold is a more common problem than many homeowners realize — in fact, most people will need mold remediation in Toronto at least once! And while mold can inspire dread by leaving your family sick and costing thousands of dollars in damage, this worst-case scenario is relatively easy to avoid. Black mold removal in Toronto is a safe and effective service that eliminates all types of mold growth. But how much does it cost, and how can you avoid needing it? Join the MoldTech team to learn more about mold remediation today on the blog.
Make Your Home Safe
You shouldn't ignore indoor mold growth. Mold can seriously affect the structure of your home from the very top to the very bottom, weakening wood and rotting out joists. It can exacerbate problems like humidity and water leaks and seriously affect the cosmetic appearance of many rooms.
More importantly, mold harms human health. While most people have uncomfortable and disruptive reactions like sneezing, coughing, or headaches, some molds produce mycotoxins that affect the brain and major organs. For children and elders, the effects of mold exposure can be severe.
The Cost
Determining the cost of mold remediation in Toronto takes into account three different variables.
1. The Size
This part of the equation is simple: more mold = more remediation labour and material costs. This is why we recommend calling us ASAP because a small patch of mold is always less expensive, practical, and more straightforward to remove than a large infestation.
2. The Treatment
Depending on your mold infestation's size, scope, and severity, we may give you a range of treatment options that suit the affected materials or location. While all will be effective, they will vary in cost and have different pros and cons.
3. Moisture Damage
At MoldTech, we find moisture or water damage at every single worksite. Sometimes it's a historical or a one-time issue, like a flood, but other times it's an ongoing issue that changes how we approach remediation. Moisture issues always need to be resolved before remediation, or else the mold will recur.
Habit Shifts and Indoor Changes
The best way to prevent indoor mold growth and avoid black mold removal in Toronto is to put into place some simple habits or changes to your home, such as:
Install ventilation fans in kitchens and bathrooms to reduce moisture
Fix leaks and drips immediately
Balance indoor humidity at 30-50%
Get a dehumidifier for basements and crawlspaces.
Work with MoldTech to Eliminate Mold in Toronto!
The MoldTech team has been helping families in Toronto, and the GTA eliminate indoor mold for over a decade. As mold remediation specialists, we have a range of affordable and effective mold remediation services that can address whatever issues you may have — we've seen it all! For safe and reliable mold testing, inspection, or mold remediation in Toronto, reach out to the MoldTech team to learn more about how we can help.