How to Properly Remove Mold from Attic Wood
Published on February 09, 2022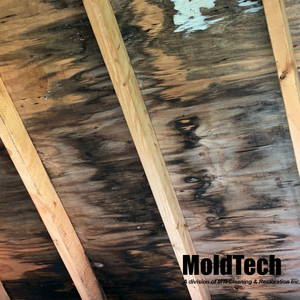 Wood is one of the materials in our homes most commonly affected by mold growth. Painted and stained wood is more resistant however — which is why mold is most frequently found in the attic, where there is a lot of raw, natural wood. MoldTech offers attic cleaning services to help root out and eradicate mold in the attic. Natural wood is healthier and better for attics, but it can be adversely affected by moisture and humidity, the leading cause of mold remediation in Toronto.
Signs of Attic Mold
Most of us don't spend a lot of time in the attic, and for good reasons — it's not meant to be a room, but a buffer between your home and the outdoors. However, when your attic is affected by mold growth, some of the signs and symptoms may be experienced below. Some of the most common ones the MoldTech team has heard include:
Temperature fluctuations due to damaged insulation.
High heating and cooling bills.
A musty odour.
Dark staining on the ceiling.
Frost and icicle build-up on the roof or gutters.
How to Remove Mold From Attic Wood
Removing mold from wood surfaces is generally straightforward. At MoldTech, there are a few different tools and solutions we use in attic cleaning. One of these solutions is an organic biocide that's completely non-toxic and non-caustic. It won't damage your home, and it's highly effective against mold.
However, a word of caution: mold removal in Toronto should only be done by a professional. Mold can be highly toxic, and attics are notoriously challenging to navigate. Let us ensure your safety and complete eradication through our professional-grade training and tools — it'll save you time, money, and stress.
How to Prevent Attic Mold
A crucial part of any MoldTech mold remediation in Toronto is prevention — we don't like repeat customers! Once your attic is mold-free, putting into place strategies and making changes to prevent the mold from returning is essential.
Attic mold in Toronto is primarily caused by one of three things:
1. Blocked or insufficient ventilation.
Attics need to breathe to move along warm air that can contain moisture. Attics without good ventilation get hot and stuffy.
2. Air leaks or roof damage.
Big storms, cold snaps, and age can all affect your roof's ability to prevent moisture from entering the attic. Air leaks can introduce water vapour too.
3. Old Insulation.
Insufficient or damaged insulation can be a breeding ground for mold infestations, trapping moisture and causing problems down below.
In our experience, every house has its unique challenges and problems, which is why a professional attic cleaning and assessment is a great preventative tool. Over half of MoldTech's work happens in attics — making it a widespread problem that we're very experienced with. If you have concerns about your attic or need mold testing or removal in Toronto, we can help! Reach out to the MoldTech team to learn more by phone or online.