The Best Mold Removal Products for Pets
Published on April 05, 2022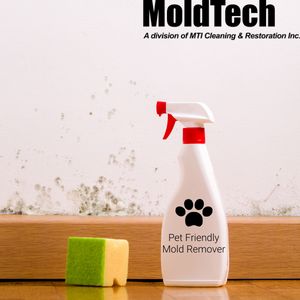 At MoldTech, we tend to focus on the safety benefits of mold remediation in Toronto for the human members of your family — but the non-human ones benefit too! The adverse health effects of mold exposure like coughing, itchy eyes, and dry skin can affect our pets as often as they affect us. Their advanced sense of smell and proximity to the ground may mean that pets experience the effects of mold infestation more strongly than we do. Mold removal in Toronto gets rid of mold growth wherever it grows and makes the house safer and healthier for your household's human and non-human members.
Are Mold Removal Products Safe For Pets?
At MoldTech, we understand how important your pets are to your family, which is why we use non-toxic and anti-microbial mold removal products. Produced from a biological agent that comes from nature, this product doesn't create harmful VOCs, leave behind toxic residue, or damage the structure of your home.
These features (as well as the other safety steps we take during remediation — continue reading to learn more!) are why we always recommend professional mold removal in Toronto. Many over-the-counter mold removal products found at hardware stores contain harmful bleaches, solvents, and other chemicals that are no good for you or your home. The worst part is that they're not good for mold either — they often strip back only the surface layer of a mold infestation, failing to kill the entire organism. These dangerous chemicals require safe handling and, without adequate testing equipment, it's impossible to know if you've cleaned up adequately, putting you and your pets in danger.
MoldTech's Mold Removal Process
Safety and cleanliness are the bedrock of the MoldTech approach to mold removal. Once we've thoroughly inspected your home, we'll begin by safely containing and isolating the area we're treating. This is for several reasons — first, we want to prevent mold spores from travelling to other rooms. We put up physical barriers and use professional-grade air filtration to scrub the air. Secondly, we want to avoid physical transfer from feet and paws — once the area is contained, only MoldTech staff will move in and out to eliminate cross-contamination.
Once any mold-affected materials are safely bagged and removed, we'll start the cleaning process — nothing beats the MoldTech clean! We'll leave your home cleaner than we found it and test (and retest) until our instruments give us negative results. This ensures no little noses, paws, or curious little humans will accidentally stumble onto something they shouldn't.
Pet Safe Mold Removal
When you book a mold remediation in Toronto, you're looking out for your entire household's health, pets included. Assessing the effects of mold growth in humans is easy, but it's difficult to communicate accurately with your pet, and we want them to live healthy, safe lives. If you're worried about the potential for mold growth in your home, get in touch with our team to book a free visual mold inspection.