What Is The Cost Mold Removal in Toronto in 2022
Published on March 02, 2022
The first step to a safe and healthy home is professional mold remediation in Toronto. At MoldTech, the cost is a significant concern for many of our clients upon discovering mold growth at home. The best way to avoid a costly mold removal in Toronto is to identify mold problems early and get professional help as soon as possible. Here are some of the factors we use when determining the cost for mold removal Toronto and in the GTA.
The Cost to Remove Mold in Toronto in 2022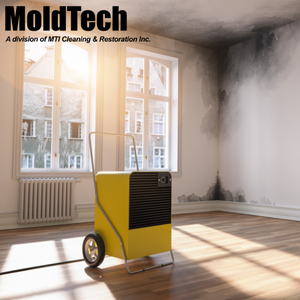 It's challenging to provide a straight answer to how much mold remediation in Toronto costs because a handful of different factors can change our approach. In general, mold removal costs between $3.50-$4.00 per square foot in the GTA. However, this cost will vary depending on where, why, and how much the mold affects your home.
The Factors Affecting Cost
There are a few different factors that will affect the cost of mold remediation. The most common ones that we see include:
Size: The bigger the mold infestation, the more expensive (and time-consuming) the removal will be. A more extensive infestation may also cause architectural or material damage to your home, adding rebuilding costs after removal. That's why we always advise booking your mold removal in Toronto ASAP — a small infestation is easier and less expensive to remove.
Affected area and materials: Mold is straightforward to remove when it's out in the open — unfortunately, it doesn't always grow that way! Mold remediation costs can increase when mold is hidden, underneath, or in hard-to-reach areas.
Remediation method: At MoldTech, we offer a few different mold remediation methods that suit different situations, areas, and budgets.
Time: More mold = more remediation time needed. The area where the mold grows can also affect how quickly we can do our job — harder to access spaces may necessitate a slower pace.
Mold Removal Toronto Methods
At MoldTech, we offer a few different methods for removing mold in Toronto. We pioneered using a biological mold removal solution in the GTA, a safe and reliable way to kill mold that helps minimize the damage caused by other methods. It remains our preferred method for dealing with mold infestations and, in a decade of experience, has proven its reliability and safety.
Another popular way to remove mold is dry ice blasting. The dry ice pellets remove and neutralize the mold colony, but this method isn't suitable for all locations and materials.
Regardless of what method you're interested in, the MoldTech team will help you make the right choice for your home and budget. Leaving mold remediation in Toronto in our capable hands eliminates much of the stress of finding mold in your home and ensures safe and effective remediation — we don't want repeat customers! If you need mold removal in Toronto or ask us for a free quote and visual mold inspection, use our contact page to reach out to the MoldTech team.