How Mold Inspections Can Help Find the Best Mold Remediation Method
Published on February 02, 2022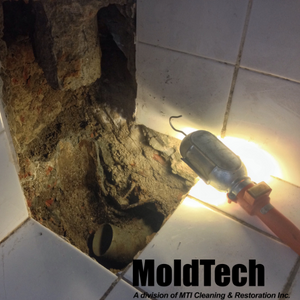 Mold is mold, right? While it's true that mold remediation in Toronto is the best way to eradicate household mold growth, there are thousands of species of mold that may affect your home. In over a decade of experience, the MoldTech team has learned that different species of mold respond better to individual treatments. When you have a difficult to remove infestation, mold inspection in Toronto is the best way to determine the species of mold because it ensures we're customizing our approach in a way that ensures eradication.
Are DIY Mold Testing Kits Good?
Many of MoldTech's clients call us after they've tried a DIY mold testing kit. While the widespread availability of these kits is excellent, interpreting the results can be challenging and confusing. One of the common problems we see with these kits is false-positive or misleading results. It's the equivalent of baking a cake yourself or buying one — both taste good, but there's a difference in your understanding and quality.
Why It's Better to Hire a Professional
Professional mold inspection in Toronto is the only way to ensure that your mold problem is eradicated. We don't just say that because we're mold professionals — our years of experience looking at homes and businesses affected by severe mold problems have shown us the benefit of going with the professional approach.
One of the most common DIY mold removal problems is safety. Mold is easy to spread, and some species are highly toxic. At MoldTech, we've studied the latest in mold safety science and follow professional health and safety guidelines to keep you (and us!) safe throughout the entire process.
Why You Should Test for Mold
Because there are so many different types of mold growth, mold testing can help us discover the most effective and efficient remediation. For example, there are many types of mold that are black in colouration — but there's only one Stachybotrys Chartarum, or toxic black mold. For this type of mold, we put enhanced safety and air filtration protocols to ensure that no mycotoxins will affect you or your family.
An improved understanding of the type of mold is an invaluable tool for mold remediation, and it's one that's only available in a professional context.
Get the Best Mold Remediation in the GTA
At MoldTech, we pride ourselves on friendly, effective, and prompt mold remediation in Toronto. When the company began, we were one of the only mold removal companies in the province. Since then, we've been honing our professional skills in thousands of homes and businesses across Toronto and the GTA.
When it comes to indoor mold growth, removing it yourself is a false economy — trust us, we've had to clean up the results! Mold inspection and testing is best done early, when you suspect a problem but aren't sure of the result. To learn more about MoldTech's services, use our contact page to reach out to our team.