How Long Does a Landlord Have To Fix a Mold Problem?
Published on November 11, 2022
Finding mold in your apartment or rental unit can be tricky, and a common question arises — who is responsible for mold removal in Toronto? It's essential to bring any mold-related issues to your landlord's attention as soon as possible so the mold remediation process can get underway. At MoldTech, our team has extensive experience helping tenants and landlords in residential and commercial properties eliminate mold growth.
Read on to learn how long your landlord has to fix a mold problem.
The Signs of Mold Growth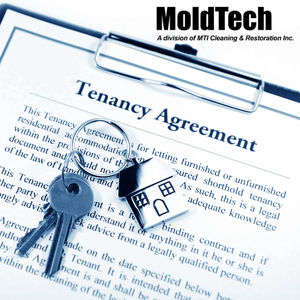 The first thing you can do as both a tenant and landlord is to learn the signs of mold growth, such as:
Dampness or water leaks
Floods
Spongy or soft floors, walls, or ceilings
Discoloration or dark stains
A musty odour
Visible mold growth
If you notice any of these issues, you must attend to them as soon as possible. Mold growth can be aggressive and proliferate, causing adverse health effects and property damage.
Read Your Lease Agreement Carefully
As a tenant, it's essential to carefully read through your rental agreement so that you know your responsibilities as a tenant and what your landlord wishes you to do in the event of mold growth or water damage. Mold is a health and safety issue that property owners or landlords are responsible for fixing.
Contact Your Landlord
If your unit needs mold remediation, you should call your landlord first, and landlords should call MoldTech! Let us help walk you through the process of mold testing in Toronto. It is good to do a mold test when there's a specific cause for concern; as part of your annual maintenance plan; or before or after a new tenant moves in or out.
Taking Further Action
A crucial part of mold removal in Toronto is prevention. Rental units across the GTA face unique stressors and conditions that may make mold growth more susceptible, such as age, location, construction, or use. Mold growth is not limited to older properties - it affects brand-new condo buildings and everything in between.
What Causes Mold in Rental Units?
Understanding the where, why, and how of mold growth in your unit or rental property is the best way to eliminate mold growth permanently. The primary cause of mold growth in Toronto apartments is condensation and excess moisture, so one of the first things the MoldTech team does is look for high humidity levels, evidence of flooding or leaks, and other conditions that may cause moisture to build up.
Eliminating the cause of excess moisture may be as simple as installing a bathroom exhaust fan or may require more significant interventions. Still, in our experience, mold is easy to prevent once you know why it happened in the first place.
Professional Mold Testing & Remediation
Mold testing and assessment on your condo or rental unit can help you identify at-risk areas and keep you and your tenants safe. To learn more about mold removal in Toronto or how to have your property tested for mold growth, get in touch with MoldTech through our website or by phone — we'd be happy to advise you on the next steps!