How Attic Cleaning Can Prevent Attic Mold from Returning
Published on May 26, 2022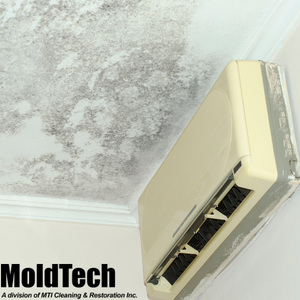 There's nothing more frustrating than finding mold in your attic, but regular attic cleaning and mold inspections can help! At MoldTech, we've helped thousands of homeowners with attic mold remediation in Toronto. Whether it's straightforward attic cleaning or more in-depth remediation, paying attention to your attic this season has long-term benefits for your whole home. Early detection is key to a mold-free attic!
Why is Attic Mold Common?
Attic mold is a prevalent issue across Toronto and the GTA. While each home is different, there are a few common reasons the attic is the hardest hit.
Mold thrives in dark, undisturbed, and moisture-rich environments, and attics often have the perfect conditions. Most attics in Toronto are challenging to reach and inhospitable, which means we visit them infrequently (not to mention they're dark — which makes it difficult to get a good look around!). Insulation is often thick, retains moisture, and can cover mold growth.
Moisture is the real culprit when it comes to mold growth. It can enter the attic as humidity from inside or outside the home or through roof or shingle damage. Whatever the reason, preventing attic moisture is key to preventing mold growth.
4 Ways to Prevent Attic Mold
Insulation
Maintaining your attic insulation and ensuring that it's up to code is one of the best ways to eliminate moisture and prevent attic mold growth. Remove old or infected insulation ASAP.
Ventilation
Mold thrives where the air doesn't move, so increasing attic ventilation can help prevent it. Air movement also prevents moisture build-up and can help dry things out if there is a surprise problem.
Appliances
If you have a bathroom or kitchen ventilation fan, the most important thing you can do is vent it outdoors. Many fans end in the attic, venting hot and humid air from cooking or bathing straight into the attic! When we see these vents, we know that mold won't be hard to find.
Roofing
Maintaining the health of your roof is a crucial step in preventing mold growth. Trim low-hanging bushes or trees (they trap moisture) and fix loose or broken shingles as soon as possible. After big storms or a long winter, we recommend visually inspecting your roof and checking your yard for shingles or signs of damage.
MoldTech can Help Eliminate Attic Mold for Good
Attic mold happens — in fact, it's one of the most commonly requested services in Toronto, and it can affect homes of all ages.
If you need mold remediation in Toronto, your best bet for long-term results is to work with a professional mold removal company like MoldTech. We'll use our professional experience and tools to do a thorough attic cleaning that ensures no mold or mold spores remain behind. To learn more about our attic mold removal services or have your attic inspected, reach out to the MoldTech team today!