Will DIY Mold Removal Save You From Needing a Mold Inspection?
Published on May 04, 2022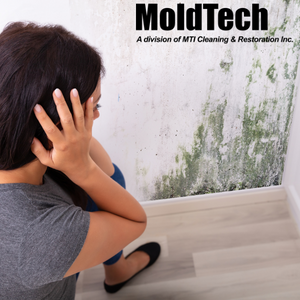 Many homeowners turn to DIY tricks and techniques when something breaks at home — for example, a quick search on Youtube brings up tons of ways to remove mold. However, mold remediation in Toronto isn't something you should do just because you can, and you won't see the MoldTech team recommending it either. We've done countless mold inspections in Toronto, where enthusiastic homeowners have tried to eradicate indoor mold growth on their own — with disastrous results.
Factors to Consider About DIY Mold Removal
Finding mold in your home can be scary — not just because of the damage and health effects that mold growth can cause, but from the worry about the cost of mold removal. In our experience, many people over or underestimate how much a mold removal may cost. But when we're talking about cost, it's not just the financial side that adds up — here are four other factors about DIY mold removal that make the pro route better in both the long and short term.
1. Knowledge
The skills and experience of a professional mold removal company are worth the cost. At MoldTech, we've got over a decade of experience on the job and in the classroom under our belts. Safe and effective mold removal takes skill and experience to do correctly.
2. Appropriate Equipment
Anyone can do a mold inspection in Toronto by looking around — but eyes aren't always the most effective tool. When you have a professional mold removal or inspection, we bring equipment that can sense hidden mold infestations and follow industry-standard safety protocols to eliminate cross-contamination.
3. Cause
The secret to successful mold removal is finding and eliminating the cause. Just removing the mold won't stop it from coming back.
4. Scope of the Problem
Mold isn't always limited to one room — it can spread throughout the house, and it can be challenging to assess the extent of the infestation without a professional assessment.
What If It's Black Mold?
While many types of mold grow with a black colour, when people ask us about black mold, they're usually talking about Stachybotrys Chartarum, a hazardous species of mold that creates toxic off-gasses. Safety is the number one reason we recommend professional mold remediation. Whether or not you have black mold, we have strict safety protocols to protect you and your family during and after the procedure, including safe containment, air filtration, and thorough cleaning.
Hire a Pro to Remove Mold in Toronto
If you're concerned about mold growth in your home, the MoldTech team would be happy to tell you more about our products and services and walk you through the process for mold remediation in Toronto. Our friendly team will help you safely eradicate any mold growth, discover the cause of the infestation, and suggest improvements to prevent further re-infestation. We take special pride in leaving your home cleaner than we found it! To book your mold removal in Toronto, call us or use our contact page to get in touch.