Cost of Attic Mold Removal
Published on February 23, 2022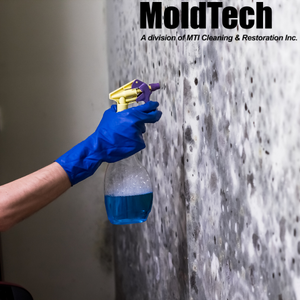 How big is your attic? When it comes to attic mold removal, the question of cost can often be determined by how big your attic is — but not always. At MoldTech, our extensive experience helping homeowners remove mold in the attic has shown that there can be multiple factors that influence the cost and scope of attic mold remediation. Today we're going to share some of the most common factors that affect the price of mold remediation in Toronto.
How to Find Mold in the Attic
If you're like us, you rarely go through the attic hatch — so how do you know if you have mold up there? Mold inspection and testing is the best way to determine if there is mold in the attic. Mold can grow underneath insulation, in dark corners, and be hard to spot — but not for MoldTech's testing and inspection tools.
Factors Affecting the Cost of Mold Removal
Mold growth.

The first factor that affects the price of attic mold removal is how much and what classification of the mold is growing in your attic. Avoiding large and costly mold infestations is the most important reason to have small patches of mold removed as soon as possible — because once they grow, so does the remediation cost.

Where it's growing.

Once mold begins to affect supporting structures or other parts of the attic, removal costs will rise. A patch of mold on a joist or wall is straightforward, but removing affected insulation or cutting away damaged wood or drywall will add to overall cost of the job.

Ongoing damage.

Regular inspections help eliminate the problems caused by ongoing damage. A small and unseen roof leak may cause cascading problems above and beyond mold growth.
The Cost of Mold Removal Toronto
It's difficult to generalize the cost of an attic mold removal in Toronto and the GTA because of the many different factors that affect the outcome. At MoldTech, we like to give you a complete and honest answer instead of guesstimates, which is why we do a thorough inspection before providing any quotes. We have competitive pricing and over a decade of experience helping families remove attic mold, basement mold, and bathroom mold, earning us industry trust and excellent customer feedback.
Mold Growth in Attics
Mold in the attic is a widespread problem for homeowners across Ontario. Between humid summers, rain, snow, and other weather, as well as a multitude of building materials and methods, your attic may be at risk for mold growth from half a dozen different causes. However, one of the related benefits of attic mold inspection and remediation with MoldTech is that we help prevent mold from coming back in the future. One small change or repair is often all that's needed to solve the cause of attic mold growth.
If you're curious about having your Toronto attic or home inspected for mold growth or want us to remove an existing patch of mold in the attic, get in touch with the MoldTech team through our contact page.