Does Attic Mold Have You Concerned?
Published on April 26, 2022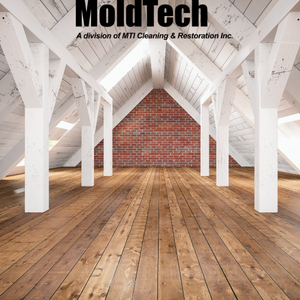 When was the last time you peeked in the attic or had an attic cleaning? If you're anything like most of your friends and neighbours, it's been a while — but MoldTech has you covered! Attic mold inspection and mold remediation in Toronto is a fast and effective service that can restore your attic. Mold loves to hide in damp and dark places, making unmonitored attics one of its favourite places. If you have any questions about attic mold and its growth, read on to learn more about this common problem.
What Causes Attic Mold?
You can trace indoor mold growth to three key factors:
The presence of moisture.
Reduced airflow.
Reduced traffic.
If you take a moment to think about your attic, you can see why these three elements occur there frequently. Moisture can enter the attic through several different mechanisms. Roof damage and age may play a role, but so can old insulation or exhaust fans that empty into it.
Reduced airflow may also be caused by problems such as a bush or tree is blocking a vent or blown-in insulation has piled over the soffits. Finally, mold's greatest comfort is peace and quiet. It loves nothing more than to grow under insulation, behind walls, and in spaces where it won't be disturbed during its growth cycle.
Attic Mold Prevention
How do you prevent attic mold growth in Toronto? The answer isn't straightforward, which is why MoldTech recommends attic mold inspection: we can assess humidity and airflow and any other quirks or unique elements of your home that may contribute to mold growth.
But in general, there are a few things the average homeowner can do to keep their attic functioning well and mold free, like:
Book annual attic inspections.
Keep their insulation up to date.
Ensure no exhaust fans end in the attic.
Regularly inspect and maintain the roof.
Seal cracks, gaps, and holes that allow weather or pests to enter.
When to Call for Attic Cleaning or Mold Removal
A few common signs and symptoms of attic mold growth can alert you to the need for mold remediation in Toronto. A musty odour is most common, followed by poor temperature control, peeling paint, or discolouration.
But more than visual cues, one of the most common effects of indoor mold growth is the health effects. People living in moldy homes report frequent headaches, respiratory problems like coughing or sneezing, and eye irritation. Effects may even be more subtle, like trouble sleeping or concentrating. This is why it's imperative to have attic cleaning done as soon as you suspect there is mold growth because mold can seriously affect your health and wellness and may cause or contribute to chronic, long-term health issues.
MoldTech is one of the GTA's most trusted mold remediation specialists with over a decade of experience helping families eradicate attic mold growth in Toronto — reach out to our team for attic cleaning, basement mold, and more!