Why You Need Recurring Mold Removal in Vaughan
Published on March 29, 2023
Recurring mold outbreaks can be stressful and challenging to manage. You may need mold removal in Vaughan at any time of the year to reduce spores, manage infestations, and help your home return to a healthy state. The underlying causes of mold growth indoors can be difficult to untangle and be caused by a range of subtle issues that may not be visible to the naked eye. The team at MoldTech has helped hundreds of families identify the cause of repeat mold infestations with mold testing in Vaughan — here are some of the common issues we notice.
Moisture and Humidity Issues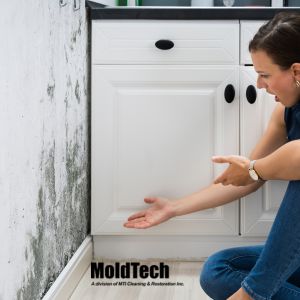 If you're experiencing repeated outbreaks of mold in your home, there will be an environmental condition helping the mold colony to survive. And the most common condition that the MoldTech team has seen is moisture. Whether it's airborne (as humidity) or liquid from a spill, drip, or flood, moisture is essential in mold growth, making controlling indoor moisture critical to mold prevention.
While water from a flood is very noticeable, humidity is harder to identify. We recommend getting an inexpensive humidity monitor from the hardware store to watch how your indoor humidity levels shift and change.
Airflow and Ventilation
Moisture will dry up when exposed to moving air, which is why having good airflow in your home is essential to mold prevention. In rooms that experience repeat infestations of mold growth, such as the bathroom or basement, increasing air flow with a fan or opening a window can have a preventative effect.
Water Damage Toronto
When there's been a leak or flood, the most important thing a homeowner can do to avoid mold growth is to dry out the affected area. Mop, dry up any liquid, and use fans to increase the ventilation as soon as possible. Mold feeds off organic matter like paper, textiles, wood, or drywall, so dry out any affected items too. If you discover long-term water damage, such as from a slow leak, it may be wise to have mold testing in Vaughan to rule out any hidden infestations.
Ineffective Cleaning and Maintenance
There's nothing like a MoldTech clean, but you don't have to be a pro to clean like one! Regular cleaning and maintenance sounds obvious, but it's the most straightforward way to prevent mold infestations in Vaughan. While we don't recommend DIY mold removal (it tends to cause more problems than it solves), we do suggest homeowners use mold-resistant products or solutions when cleaning and maintaining their homes as preventative measures. Not sure if a product is right for your home? Book a consultation, and we'll help you figure it out!
Remove Mold For Good with MoldTech
If you are having repeat mold infestations and nothing you do helps, it's time to call in the professionals. At MoldTech, we have over a decade of experience helping people with mold removal in Vaughan. Intractable infestations are not impossible to solve, but they need our professional expertise and tools to fully understand and remediate them.
To learn more about eliminating recurring mold infestations in your home, contact MoldTech to request your consultation.