Why Property Managers Should Prioritize Mold Removal
Published on August 24, 2023
As a property manager, you do more than change lightbulbs — you're also responsible for the health and safety of tenants and visitors. At MoldTech, we suggest adding mold removal in Vaughan to your to-do list. This added layer of accountability and care signals your commitment, accountability and professionalism to the building owner. Mold testing in Vaughan can help if there are mysterious smells or the building has seen floods, leaks, or other problems in the basement or attic.
Keep Tenants Happy!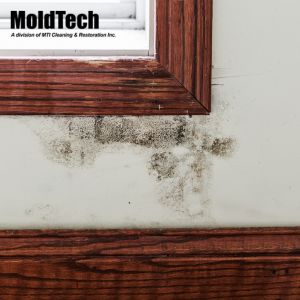 The primary goal of a property manager after caring for the building is to keep the tenants happy. And the quickest route to happy tenants? A safe and healthy building. Avoid having to search and interview new tenants regularly by eliminating mold problems that can damage merchandise, make staff ill, and create an unwelcoming environment.
Minimize Property Damage
Mold isn't just unsightly; it can also cause thousands of dollars of property and structural damage quickly. At MoldTech, we always recommend mold testing in Vaughan shortly after floods, leaks, or other water events, because mold can start to grow in as little as 48 hours. An unseen mold colony can start doubling in size every few days if the conditions are right and can quickly weaken studs, eat away at walls, and soften flooring.
Reduce Restoration Costs
All of that property damage can get costly to restore. One of the best arguments for professional mold removal is that prompt action helps reduce costs. Expensive and time-consuming restoration keeps tenants locked out and unable to pay their bills, resulting in negative outcomes for everyone. Catch a mold colony early with mold testing, and MoldTech can eliminate mold while an infestation is still manageable.
Streamline Renovations
For property managers overseeing renovations and upgrades, adding mold removal to the plan may add a day or two, but it can save dozens down the line. Having the MoldTech team assess your empty property pre or during renovation for risk factors or mold growth allows you to safely remediate or make changes to eliminate your risk while the building is vacant. Mold testing is a great way to assess future risk — fixing problems now protects your renovation investments later.
Retain Tenants
A great tenant makes your job easier as a property manager or landlord, so keeping them happy and promptly dealing with repairs or problems should be your priority. A safe and healthy physical location helps tenants work efficiently and foster good relationships with clients, and significant building problems like mold do not inspire confidence or trust.
Prioritizing Mold Removal
If the property you manage is at risk of mold growth or your tenants report unusual smells, sights, or damage, prompt action can help you avoid big and stressful mold problems down the road. Mold removal in Vaughan is a safe and effective way to remove mold growth from commercial or residential properties and reduce the risk factors that lead to infestations. If you're a property manager in Vaughan, call the MoldTech team to learn how we can help you.