Why Landlords Should Prioritize Mold Removal in Mississauga
Published on September 22, 2023
If you're a landlord suffering from mold in your unit or building, quick action can save you the cost and stress of a black mold removal. At MoldTech, we've helped many landlords, tenants, and condo boards deal with mold removal in Mississauga by offering prophylactic testing, monitoring, and inspections. While the reasons behind mold infestations are complex, the ultimate responsibility lies with the landlord. Here are some of the benefits of prioritizing mold removal.
Keep Your Tenants Healthy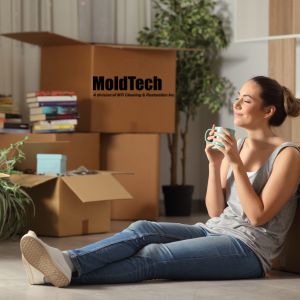 As a landlord, it's your responsibility to keep your rental property healthy, safe and to code. Mold grows because of excess environmental moisture and pollutes indoor air quality primarily by producing airborne spores. These spores can cause various health effects that can make tenants acutely ill, exacerbate existing conditions, or even contribute to long-term health and wellness.
Protect Your Building Materials
Next to your tenant's health and safety, it's essential to prevent mold to protect the structure and materials of your home. Mold can eat through wooden joists, destroy floors, walls, and ceilings, and even infiltrate expensive appliances like the furnace. When mold issues become this severe, landlords often have to evict tenants to do an entire renovation to replace and repair elements of their homes — losing rental income and having to shell out thousands for the repairs.
Retain Good Tenants
When you have great tenants who pay their rent on time and are clean and respectful, retaining them long-term has many great benefits. By promptly dealing with complaints or looking after issues that cause mold, like leaks or drips, you can strengthen your working relationship and have a stress-free rental unit.
Stop Future Mold Outbreaks
At MoldTech, one of our primary objectives is to teach homeowners the signs or symptoms of mold growth so that they know when there's a problem. As a landlord, familiarize yourself with your property's ins and outs and have your tenants actively alert you to changes or unfamiliar spots, blotches or stains. Prompt action is critical in lowering the cost of mold removal in Mississauga and reducing the damage that mold can cause.
Signs of Mold
So, what does an emerging mold problem look like? The answer might be less straightforward than you think because building location, materials, and other unique features of your property can affect how and where mold grows. In general, however, have your tenants watch out for:
Drips, leaks, floods and other water events.
High indoor humidity.
A musty odour.
Stains or marks on walls, ceilings, and floors.
Soft or spongy areas.
Mold Removal in One Easy Step
Take action against mold growth in your rental property by booking a black mold removal with MoldTech when you discover a problem. Mold growth doesn't need to be a long-term headache — with our efficient, discreet, and prompt services, we can rehab your property to protect your investment and tenants, as well as help you prevent future mold problems from occurring. Call or email MoldTech today to discover more about mold removal in Toronto.