Why is Mold Attracted to Your Attic?
Published on July 07, 2022
What's going on in your attic? Most of us can't answer this question honestly, but the quickest way to an accurate and impartial answer is to have a mold inspection. At MoldTech, we recommend testing and inspecting your attic annually to prevent the need for attic mold removal. Because we don't actively use our attic, it's easy to forget it's there and ignore or miss the warning signs of mold growth.
This year, many of your friends and neighbours won't discover mold until it's too late — learn how to pay attention to the signs of mold in the attic by reading below.
Signs You Have Mold in Your Attic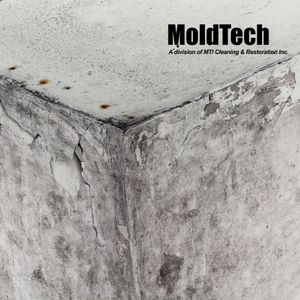 When we visit someone's attic, we often see visual or physical evidence of mold growth that would be obvious to a keen-eyed homeowner. Here are five of the most common signs of attic mold:
A musty or earthy odour.
Heavy heat, humidity, and restricted airflow.
Dark staining on the wood or joists.
Frost buildup or ice damming around the roof.
Degraded insulation.
Causes of Attic Mold
At MoldTech, we find three main causes of attic mold.
Ventilation issues: Attics with poor or restricted ventilation almost always need attic mold removal because they hold onto moisture. Unlike the rooms of your home, the attic needs constant ventilation and air movement to function, which helps dry out water and reduce humidity that can trigger mold growth.
Roof leaks: Unlike a flat tire or burnt-out lightbulb, damage to your roof or shingles can be difficult to spot, since it's so far out of eyeline. Roof leaks, damage, and old age are all very common causes of mold in the attic. Annual mold inspections will spot roof issues and help you correct them before they become serious.
Exhaust fans: Installing an exhaust fan in your kitchen or bathroom is a great way to prevent mold growth in those rooms — but make sure the endpoint is outdoors and not the attic! Many lazy contractors or enthusiastic DIYers will route exhaust fans into the attic, which is a bad idea! This hot and moisture-heavy air will linger in your attic and always leads to mold growth.
The Solution to Attic Mold Growth
Solving attic mold growth is best done as soon as possible. Quickly addressing an attic leak or fixing an exhaust fan and increasing ventilation today can solve an (expensive) headache down the road. At MoldTech, we strongly recommend attic mold inspection as the premier preventative tool. A professional mold test or inspection can identify issues like poor airflow or high humidity and point out damaged shingles or low-hanging trees that may increase your future risk.
After over a decade in business, the MoldTech team has perfected attic mold removal by helping thousands of families identify and remove mold in their attic. A clean and mold-free attic makes for a healthier, safer home and reduces the effects of chronic conditions like asthma. To learn more about booking an attic inspection for your home, reach out to our team online or by phone.