Why is Black Mold So Dangerous?
Published on June 15, 2023
If you've read about mold growth in homes, you've likely heard about the worst type: black mold. Every year the MoldTech team performs a handful of black mold removals in the GTA, helping families eradicate this dangerous fungus that can cause serious health effects. But mold removal in Mississauga is essential for mold of any colour, not just black! Mycotoxins, the harmful chemical in black mold, may not be present in every type of black mold, and may be produced by any number of species and colours.
What Is Toxic Black Mold?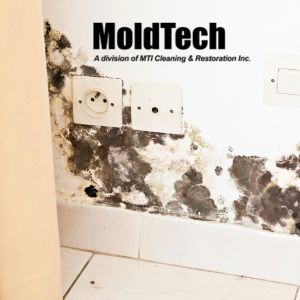 When discussing toxic black mold, we refer to a specific species, Stachybotrys Chartarum. This prevalent black mould species has received much media attention in the past few years because it produces mycotoxins, a toxic substance with severe health effects. Stachybotrys may look black to green. It thrives in common materials like fiberboard, drywall and gypsum that are found throughout our homes.
What are Mycotoxins?
Mycotoxins are naturally occurring toxins moulds produce that can cause various health effects. For example, ingesting mycotoxins in food may cause gastrointestinal problems, while inhaling mycotoxins may cause respiratory issues. It can be difficult to identify mycotoxin-producing mold by sight alone, making professional testing key to accurate diagnoses. The results of mycotoxin exposure may be acute, but long-term effects can be severe and even deadly.
Where You May Find Black Mold
Black mold can enter your home in numerous ways, like on your clothes, furniture, or pets. Once the spores are in your home, they remain inactive until exposed to water or moisture. In our experience at MoldTech, this means that the most commonly affected rooms tend to be:
Attics
Bathrooms
Basements or crawl spaces
How to Protect Yourself Against Black Mold Exposure
Many events can lead to moisture in your home, and many people don't realize that everyday activities like bathing, cooking, or washing may be enough to start a mold infestation. While annual mold inspections are a great idea, we recommend that our clients have mold testing in Mississauga after significant floods, leaks, or storms that cause exterior damage. Inspections will catch emergent colonies before they take hold and help you prevent damage to your home.
Because of the health danger of mycotoxins, we recommend having professional mold removal in Mississauga any time you find a colony. Mold removal is not a DIY task! Toxic spores are easily disturbed and spread, and household cleaners are not strong enough to safely and permanently eradicate mold.
At MoldTech, we have several methods for removing black mold, including natural biocide, dry ice blasting, and media blasting. We also use approved safety equipment like HEPA air filtration and follow the most current guidelines for air quality safety and proper disposal.
If you need black mold removal, professional remediation is the way to go! Don't risk your health and safety by trying to remediate yourself or hiring a handyperson — mold is a household problem requiring specialist knowledge and understanding. To speak with a member of the MoldTech team about mold removal in Mississauga, contact us today.