Why Attic Mold is A Safety Hazard?
Published on June 09, 2023
A musty odor or leaking ceiling is often the first sign you need mold testing in Toronto. Whether it's caused by water damage, pests, or insulation issues, the MoldTech team has been helping your neighbours with attic mold removal in Toronto and the GTA for over a decade. If you're wondering whether your home is affected, our article today should help you recognize the warning signs of attic mold and how it makes you sick.
Attic Mold and Indoor Air Quality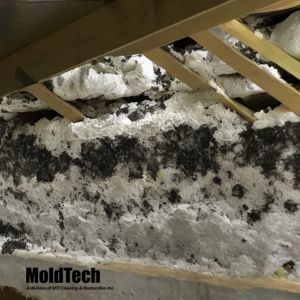 On smog days, we know to limit our activities outdoors to protect our lungs and bodies — but many people aren't aware that indoor pollution may be more dangerous in the long term. When discussing indoor air quality, we're referring to particulates, gasses, and compounds that affect our indoor living and working environments. Mold reproduces using tiny airborne spores that are detected during mold testing in Toronto. These spores can be inhaled into the lungs or settle on the skin, hair, or eyes, where they cause an allergic response.
Attic Mold and Insulation
One of the most common causes of attic mold that the MoldTech team uncovers is old, insufficient or damaged attic insulation. Your insulation shades your home from the sun and prevents hot air from escaping during the winter — when this 'hat' is damaged by mold, your heating and cooling bills can quickly rise.
Insulation can become damaged in many ways: mold, pests, insects, leaks, wind, and condensation are most common. Once insulation is damaged by mold, it must be removed and replaced to ensure your home is energy efficient.
How Mold Makes You Sick
Even robust and allergy-free people report the symptoms of mold exposure, such as:
Coughing
Sneezing
Itchy, watery eyes
Congestion
Headache
Many of these symptoms mimic seasonal allergies or the cold and flu, making it difficult to pinpoint the cause — so if your anti-histamines aren't working, a mold test might be the next step!
Signs of Attic Mold Infestations
If your attic is anything like ours, it's hard to get to because it's tucked away in a closet or has a small hatch. While the easiest way to spot a mold infestation is to see it, MoldTech finds that attic mold's symptoms often manifest in other rooms adjacent to the attic. Watch out for things like:
Stains or discolouration on the ceiling or walls
A musty odour, like decaying leaves
Rooms that are hot or cold
Condensation or moisture
Mold Testing and Removal with MoldTech
Attic mold removal is a safe and effective procedure for eradicating attic mold growth. At MoldTech, we use the latest tools and methodologies to locate and remediate areas with mold growth, leaving your home and indoor air quality clean and allergen-free. For us, the most important part of mold testing in Toronto is discovering the source of the infestation — once this is identified and the mold removed, it's unlikely to return. To contact us for a free visual mold inspection in Toronto or the GTA, call or email directly.