What NOT to Do When You Encounter Mold in Your Home
Published on July 21, 2023
The internet has been a great boon to DIYers everywhere — videos on almost everything, from fixing your washing machine to mudding drywall, are available at a click or swipe.But just because you find a video about mold removal in Vaughan, does that mean you should?At MoldTech, we often get this question, especially after mold testing in Vaughan returns a positive result. The short answer is NO — and not just because we want your business. Read on to find out why DIY mold removal is a no-go.
Why Not DIY Mold Removal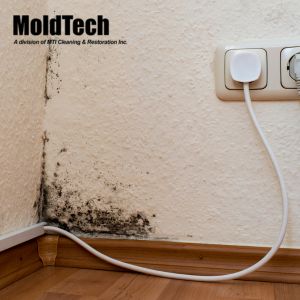 While there are plenty of things a savvy homeowner can do themselves, MoldTech highly recommends the professional route when you discover mold in Vaughan. This opinion comes after over a decade of helping people remediate mold-stricken homes, condos, and businesses and seeing the results of enthusiastic - but ultimately unsuccessful - DIY mold removal.
The primary reason we recommend professional mold removal is safety. Mold removal has inherent dangers to your property, health, and long-term safety, so its essential that it is done correctly.
Common Mold Mistakes
The client blooper reel is sad but true — we've seen many mishaps happen when homeowners try to eradicate mold alone! Here are some of the most common mistakes we find:
Cross-contamination occurs when people use the same sponges or buckets to clean other areas of the home.
Over-the-counter solutions and chemicals cause secondary damage to your property.
Improper personal protective equipment results in irritation, chemical burns, or contact dermatitis.
The cause of the mold infestation is not discovered or solved.
Secondary damage to your home's structure — like a foot through an attic floor!
What to Wear Around Mold
Mold spores are very easily disturbed, so if you spot mold growth in your attic, basement, or other rooms, we recommend staying well away. If you have to get near it, wear long sleeves and pants and a well-fitting N95 mask, and change your clothes as soon as you leave the area to prevent spores from hitching a ride.
The Benefits of Professional Mold Testing and Removal.
Working with MoldTech to do mold testing in Vaughan ensures that you avoid common mold mistakes, that industry-recommended safety protocols are conducted, and that we help you discover the cause behind the infestation — getting rid of mold for good.
One of the worst outcomes of DIY mold removal is the added stress, mess, and continued health effects that long-term mold infestations cause. Because mold spreads via airborne spores, extra caution and air protection must be implemented to ensure our team and your family aren't exposed during remediation.
With thousands of hours of in-class training and on-the-job experience, MoldTech uses professional-grade tools and equipment informed by the latest research to safely and permanently eradicate mold. Don't let this common problem damage your home or risk the safety of your indoor air quality! Contact our team today to learn more about mold removal in Vaughan and how we can help your home recover from mold growth.