What Kills and Removes Mold in the Attic
Published on March 08, 2022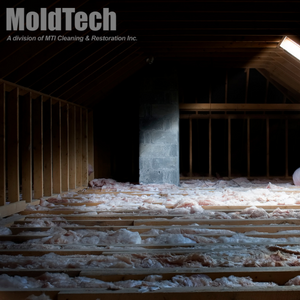 Mold growth in the attic will affect the whole home. Whether it's fluctuating temperatures from damaged insulation to strange smells or damage to ceilings or walls, attic mold removal is the only safe way to ensure mold in the attic is eradicated for good. Determining the best way to kill and remove mold in the attic isn't just a science; it's an art, and trusting MoldTech's decade-plus of experience in attic mold remediation can help you get the best results. If you have attic mold you need to remove, read on to learn what we recommend you do.
DIY Mold Removal Methods
The internet will suggest many different DIY mold removal methods, such as:
Bleach
Vinegar
Borax
Tea tree oil
While some of these chemicals may have a short-term effect on mold in the attic, they won't be able to eliminate the problem — and in some cases, they may make it worse. We know this because we've had clients who tried the DIY route first. There's no substitute for professional mold removal in the GTA.
Professional Mold Removal Methods
Here's what you get when you choose professional attic mold removal.
A complete and thorough mold inspection to identify visible and hidden mold infestations.
A diagnosis of the cause of the mold problem.
Safe, thorough and effective removal.
Air testing and safety procedures to ensure you're protected during remediation and that no mold spores remain afterwards.
As a professional mold removal company, MoldTech has access to the latest research, tools, and chemical treatments to eliminate mold. Some of the methods we may use include:
Dry ice blasting
Chemical washing
HEPA sanding
Types of Mold
Another aspect of mold removal is that the professionals know what they're looking at when it comes to the types of mold. Not all mold is benign — some species emit harmful mycotoxins that can make people extremely ill.
Identifying these risks through mold testing in Toronto and the GTA can help us ensure we not only take the correct safety steps but are also using a method for remediation that suits the location and type of mold. Understanding the type of mold in your attic can also alert us to the cause — and prevention is an essential part of any mold remediation.
What To Do If You Have Attic Mold in Toronto
If you've discovered mold in the attic or suspect there could be a problem, the best thing to do is reach out to a professional mold removal company like MoldtTech. With over a decade of experience helping homeowners in Toronto and across the GTA removal attic mold safely, we can help diagnose your home and eradicate your mold problems. Our technicians are highly trained and knowledgeable and are happy to walk you through our process and safety standards to feel confident throughout your attic mold removal. To speak to our team for a free visual mold inspection, use our contact page to get in touch!