Ways to Prevent Mold Growth in Summer Months
Published on July 11, 2023
In Southern Ontario, the summer months bring sun, heat, and lots of humidity — nice to live and play in, but not so great when it comes to mold growth. All of that warm weather results in an increase in appointments for mold testing in Toronto at MoldTech. Many summer weather conditions, like rain, heat, and humidity, are exactly what mold needs to thrive, especially in the attic or basement. Attic mold removal is one of our most popular services — continue reading to learn if your attic is at risk this summer.
How Mold Gets into Properties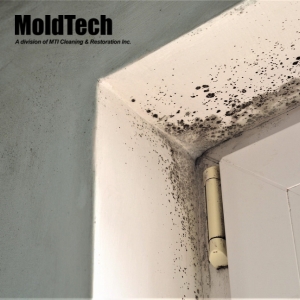 Mold is ever-present in the natural environment, whether as the physically fruiting body or its reproductive arm, the airborne mold spore. Mold thrives outdoors, with plenty of wood, plants, and organic matter to eat and break down.
Mold enters the home in the air, on our bodies, and on the materials we bring into it. And like the outdoors, there's plenty for mold to eat: wood, textiles, and paper are three everyday items we test for mold.
Why Mold is Attracted to Attics
The reason that attic mold removal is such a commonly needed service is that the attic tends to be one of the best places for mold to grow year-round. If you think of it, the attic is:
Dark
It has little to no traffic (so mold can grow undisturbed)
It has plenty of food (wood!)
It is a stable warm temperature year-round
It can become quite moist and humid
Airflow is poor or non-existent
How to Manage Humidity in the Summer
There are two crucial facts about air: warm air rises, and warm air holds more moisture. These facts put attics at a higher risk of mold growth in the summer. Warm and moisture-rich air can get trapped in attics with poor ventilation, leading to condensation on surfaces and insulation destruction — which worsens the heat and humidity. In our experience at MoldTech, the attic can behave like an incubator for mold growth, encouraging and nourishing the formation of a healthy colony. Speaking to an insulation specialist about improving your attic's airflow and heat resistance can help you manage and avoid mold problems in the attic.
Why Not DIY Mold Removal
You may be tempted to take on DIY mold removal during your summer holidays. But before you start, consider the risks:
Physical challenges because of the heat and cramped quarters.
High likelihood of cross-contamination.
Over-the-counter mold removal solutions are generally ineffective
Increased risk of accidents, like a foot through the ceiling.
Exposure to spores and poor air quality.
Don't DIY — instead, call the professionals at MoldTech for safe, effective, and clean mold removal in Toronto. Our knowledgeable and experienced team will help eradicate mold in your attic, basement, and house using state-of-the-art tools and equipment that are industry certified and recommended. Return to enjoying the summer sun stress-free by calling MoldTech for mold testing in Toronto. Mold removal benefits from quick action and we'd love to help you improve your air quality and indoor safety.