Use Mold Remediation Services in Toronto When Selling Your Home
Published on January 14, 2022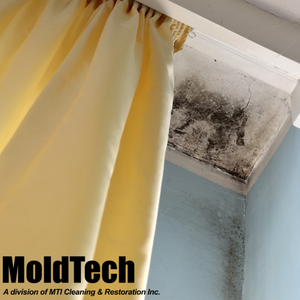 Selling a home in Toronto's red-hot market has never been easier — but have you taken a closer look around? Booking an attic mold removal with MoldTech before listing your house can help you sell quickly, with confidence, and reduce your liability. Mold in the attic is a widespread problem across the GTA — most of us don't visit the attic often and it's easily missed. Assessing your home for mold before you put it on the market (or, if you're buying, during a home inspection) can save you time, money, and stress.
What is Mold?
We use the word mold (or mould) to refer to several thousand species of fungus that thrive on organic materials like wood, paper, carpet, and drywall. In nature, mold helps break down trees and leaves, but this, for obvious reasons, isn't something you'd want in your home!
The damage mold causes to your property is only one half of the story. The other part is the effect that mold has on human health. Mold reproduces using spores, which are tiny airborne particles. These spores are easy to breathe in and may attach to your skin, eyes, or nose. Spores cause mild allergic reactions in most people, but they can cause irritating and even debilitating health problems for others. Some types of mold, like the infamous toxic black mold, produce mycotoxins and has sent people to the hospital (and worse).
Common Places Mold Grows
At MoldTech, we've seen mold growing just about anywhere you can imagine — but there are some rooms and places in your home that it's more likely to develop first. These include:
The attic
The bathroom
The kitchen
The basement
The laundry room
The crawlspace
The Common Cause of Mold
There are a few things in common that all of these rooms have that makes them more susceptible to mold growth:
Moisture
Lack of ventilation
Stable temperature
When we find mold in the attic, it's always near a water leak or in an area of high humidity. A lack and ventilation and stable temperature are less important — water is the single-most-important trigger for indoor mold growth.
Water can move around our homes in many different ways. It's often accidentally brought in on wet boots or clothes; it can come from drips, leaks, or floods; or it may come from damage to the architectural elements of your home, such as around windows or through an aged roof. Regardless of how it gets there, excess water needs to be dried up, and the source eliminated as soon as possible to prevent damage and mold growth.
Selling Your Home in Toronto?
If you're putting your home on the market this year or are looking for a new one, MoldTech can help you get ready with our attic mold removal service. Professional remediation is the only safe and reliable way to eliminate mold growth and its causes and helps buyers (and sellers!) feel confident and secure. To book your mold removal in Toronto, contact the MoldTech team!