Top Reasons to Take Action When Dealing with Black Mold
Published on November 14, 2023
It's frightening to discover a big patch of black mold growing across the walls or floor at home, especially when you don't know why it happened or how it's affecting your home or health. With black mold removal and testing in Ontario, MoldTech is ready to help reduce that fear and anxiety! A safe and effective service, mold removal in Mississauga will eliminate household mold growth and help identify why it's growing in the first place — which will help you prevent it from happening again. The team at MoldTech has faced black mold problems before, and we've learned a few things — read on to learn more about what happens during an infestation, the signs of black mold, and how quick removal helps.
What Are The Repercussions of Black Mold?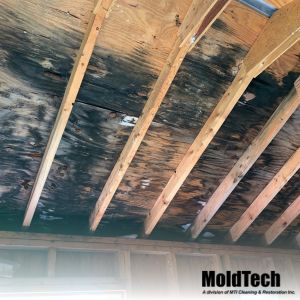 Mold growth of all types and colours can cause severe problems for your home, such as:
Health issues, especially for the respiratory system.
Increased heating and cooling costs.
Damage to your building structure, appliances, or furniture.
Strange odours.
High humidity.
Certain types of black mold have an outsized effect on health and wellness due to the mycotoxins they produce. These toxic particles cause more than the usual mold-related health effects like sneezing, headaches, and congestion; mycotoxins can land people in the hospital and, in some situations, can affect the brain and major organs. These serious side effects of mold growth are why MoldTech recommends black mold removal happen ASAP to reduce your risk and protect your health.
Visible Signs of Mold in Your Property
What signs does black mold leave in your home? Here are a few of the common things our team notices:
Strains or streaks on walls, floors, or ceilings.
A musty odour like rotting leaves.
High humidity or condensation problems.
Spongy or soft walls or floors.
Problems with ventilation or air movement.
How Does Black Mold Removal Help?
Removing black mold when you find it in your home is essential for good health and a safe home environment. One of the most significant effects of mold removal is better air quality. Air is how mold allergies affect us and how infestations hop from room to room. Respiratory complaints are the number one symptom of black mold problems. Mold allergies can be disruptive and make daily life uncomfortable and inconvenient, with research suggesting that poor air quality also affects cognition, recovery time from illnesses, and sleep quality.
Black mold can also cause significant damage to your home by damaging appliances, walls, flooring, and critical infrastructure like beams or the roof. Mold eats organic material, which is why we find it growing on materials like wood, textiles, and paper — unfortunately, our homes have plenty of these materials!

The good news is that MoldTech has over a decade of professional knowledge in the mold removal field, and our friendly and efficient technicians have thousands of hours of experience and training safely remediating homes that suffer from mold growth. If you need mold removal in Mississauga, don't hesitate to contact our team for a mold inspection or to learn more about how we can help.