How to Safeguard Your Home with Attic Mold Removal
Published on November 09, 2023
Attic mold removal in Mississauga is one of MoldTech's most frequently requested services. Mold in the attic is common across the entire GTA, and several factors cause the need for professional attic cleaning. In today's blog, let our technicians walk you through the where and why of attic mold growth and propose several preventative solutions that you can implement today. Mold removal in Mississauga is a common service and nothing to be worried about — our products are non-toxic and we'll leave your home cleaner and mold-free in no time!
What Causes Mold in the Attic?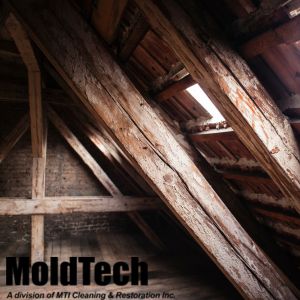 There are many different reasons why your attic may be experiencing mold growth. However, unwanted or excess moisture is the primary cause of any infestation. Your attic should be a cool and dry environment, but various factors can cause this to shift. Leaks from roof damage, piping, and ice dams may cause water to enter your attic, and humidity buildup from blocked vents or hot air rising is also common. Once moisture meets mold spores, infestations can start growing in as little as 48 hours, which is why the MoldTech team prioritizes having a dry attic — mold will not grow without moisture.
Spot the Signs of Attic Mold
If the environment of your attic is affected by mold growth, you may notice subtle signs elsewhere in your home. At MoldTech, the most common signs our clients report to us include:
Staining or darkening of the ceiling.
Hot and stuffy or cold and drafty rooms.
A strange, musty odour.
Higher than average home heating or cooling bills.
Ice damming or roof buildup.
Inexplicable allergies, coughing, sneezing or headaches that disappear when you leave home.
Schedule Attic Testing and Cleaning
Most attics in Mississauga are not commonly used for storage, so homeowners rarely visit them; the small entrance hatches tucked away in closets or at the top of staircases don't make an annual visit very appealing either! This is where professional attic cleaning comes in handy — let the MoldTech team do an attic mold inspection or testing to ensure that your attic humidity is balanced and that no mold lurks in dark corners or under insulation.
Preventative Measures You Can Take
Whether or not you've had attic mold problems, there are a few preventative steps every homeowner can take to reduce their risk. At MoldTech, we recommend the following:
Annual mold inspections.
Managing moisture with remote testing devices.
Assessing ventilation and making improvements.
Upgrading old insulation or completely clearing out infected insulation to prevent contamination.
Sealing the attic from pests.
Evaluate the exterior after significant storms or extreme weather.
Attic mold can often grow for years without signs or significant effects — many people think that sniffling or headaches are caused by allergies to dust or pets, not mold spores. At MoldTech, our attic mold remediation services are efficient, discreet, and, most importantly, they work! Using various techniques (like natural biocides or media blasting), our technicians safely clean hundreds of attics throughout the year, helping families live healthier and safer. To book your attic mold removal in Mississauga or inquire about mold inspections or testing, call the MoldTech team today.