Recognizing Mold Infestations in Your Home
Published on January 24, 2022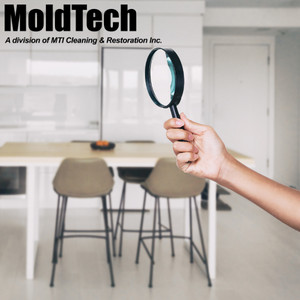 Homes across the GTA are all at risk of a widespread problem: mold growth. In this guide, MoldTech highlights some of the common reasons for mold removal in Toronto, Vaughan, and Mississauga, why it forms, and where you can find it. Mold growth does not mean that your home is dirty, and it isn't an insurmountable problem — mold inspection with MoldTech can root out hidden issues and help you eradicate mold for good.
Environments Where Mold Infestations Occur
Mold infestations can occur in any room of your home — as long as the right conditions are met. These conditions tend to appear with greater frequency in certain rooms or areas, and knowing what these triggers are can help you spot mold early or prevent it from happening.
Mold grows in rooms with:
High moisture or humidity
Reduced airflow
Reduced traffic
From the Basement to Attic
Once you know why mold forms, you'll want to think about where in your home these conditions might be met. At MoldTech, we often start at the top or bottom of a home during a mold inspection in the GTA because the basement and attic are two commonly affected areas. The basement often experiences mold growth due to floods, leaks, and reduced airflow. Attic mold is prevalent because most people never look up there, and roof damage, humidity, and poor airflow can go unnoticed for months or years. Other areas that we find mold growth include the kitchen, the bathroom, and around windows and doors.
Dealing With a Mold Infestation
What should you do if you discover mold growth in your home? Removing mold growth through professional mold remediation in Toronto, Vaughan and Mississauga is the only way to eradicate mold forever and prevent cross-contamination. Many of our clients have called us after they tried a DIY mold removal — only to find the problem came back worse than ever.
Why Is Mold a Problem?
Mold is a fungus that can be found on every continent around the world. While outdoors it poses few problems, mold growth inside your home has severe consequences for the safety of your home. Mold can weaken the supporting structure of your home and damage expensive elements like insulation, windows, joists, and walls. Sometimes the only way to eliminate mold from these structures is to completely replace them, making mold a costly problem to ignore.
Mold also seriously affects human health. Beyond mild allergic reactions like coughing, headache, and nasal congestion, mold can cause inflammation and irritation to the entire respiratory system. It can also negatively impact your sleep and cognitive skills, and has a greater impact on the very young or very old.
Professional mold removal in the GTA
When it comes to mold inspection, mold testing, or mold remediation, MoldTech is one of the GTA's premier mold removal companies. We've been in the business for over 15 years and have helped thousands of families with mold removal in Toronto, Vaughan, and Mississauga. Our friendly technicians would be happy to answer any questions about our products and services — use our contact page to get in touch with the team today!