Recognize Black Mold Exposure in Babies
Published on September 12, 2022
Mold is an insidious problem — with few noticeable symptoms, many homeowners don't realize there's a serious issue until it's well developed. At MoldTech, we've helped thousands of families with black mold removal, eliminating this common - but dangerous - problem before it can affect the most vulnerable members of our families. Mold testing and mold removal are essential if you've got babies or young kids at home because their developing immune systems can have greater vulnerability to mold's adverse effects.
Signs of Black Mold Exposure in Babies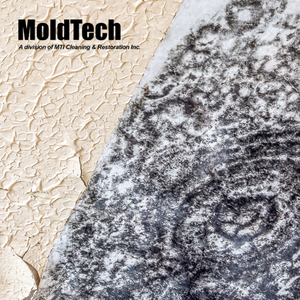 Exposure to toxic mold spores causes various reactions in babies, children, and adults alike. Some of the most commonly reported are:
Headaches
Burning sensations in airways
Persistent cough
Fever
Nose bleeds
Skin irritation
Itchy eyes
Running nose
However, infants may react uniquely to mold growth because of their growth stage. Even after full-term delivery, a baby's lungs are still developing and maturing during the first three years of life. This critical stage is when the lungs are at their most vulnerable — and compelling, if indirect, links have been shown between childhood asthma and mold exposure.
Who Else Does Mold Affect Most?
Mold can affect any member of your household — including your pets! But in general, MoldTech recommends prioritizing mold testing and mold removal for families with immunocompromised or elderly residents.
What Causes Black Mold & Where Do I Find it?
Mold is caused by increased indoor moisture, such as a flood, leak, or poor ventilation. While black mold gets all the press, in reality, there are many different colours and textures of mold that grow in our homes. When people refer to black mold, they're usually talking about Stachybotrys chartarum, a type of black mold that produces harmful mycotoxins.
Mold can be found in any room with organic materials (food) and moisture (water, humidity, condensation). Some of the common spaces MoldTech finds mold include the attic, basement, crawlspace, and bathroom.
How to Approach Black Mold Removal
If you're concerned about a strange patch or worried about a musty smell, we recommend having a professional mold inspection ASAP. Why go pro? Safety! In case you have a mycotoxin-producing mould strain, our knowledge and experience in safely remediating mold ensures we won't stir up or aggravate any infestations we find. We also have the tools and expertise to find mold colonies growing behind walls, underneath the flooring, or in hidden spaces.
Tips to Prevent Mold Outbreaks
At MoldTech we know that the best way to avoid black mold removal is to prevent it from happening in the first place. One of the benefits of having a professional mold removal is that we'll share valuable tips and tricks for preventing future outbreaks, such as:
Where and how to increase ventilation.
The relationship between insulation and attic mold.
Preventing water incursion.
The best areas for exhaust fans and where to route them.
If you're starting a family or have young kids at home, mold testing and mold removal can help set their future health and wellness on the right track. To speak to a MoldTech technician about mold proofing your home for babies, reach out to us directly.