How Your Kids are Affected By Mold Growth
Published on July 19, 2023
The little people in our lives are often the first to be affected by indoor mold growth, so there are many benefits to having black mold removal performed as soon as you know there's an issue. At MoldTech, we've discovered hundreds of different species during mold testing: some thrive in basements, others in bathrooms, and some grow only on their favourite food sources. Either way, mold removal in Mississauga is a critical service in helping to keep your growing family safe and healthy year-round.
How Does Mold Get In?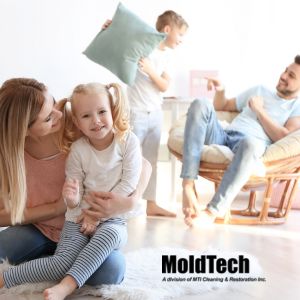 Mold is present in our yards, parks, and streets, where it breaks down organic matter like plants and trees. It enters our homes on shoes, pets, clothes and our bodies as tiny spores that act as seeds. Once mold is in your home, spores float or rub off onto surfaces. The growing process begins when spores land on a suitable material and are exposed to moisture.
Why Does Mold Make People Sick?
Mold spores are tiny enough to be easily inhaled, and they cause irritation and inflammation throughout the respiratory system. They can also affect the eyes, skin, and hair and have widespread physical symptoms that are often hard to distinguish from the common cold or flu. The more mold spores in your environment, the more quickly you'll likely be affected.
What Does Mold Sickness Look Like in Kids?
Kids' rapid growth and development make them especially vulnerable to the effects of mold growth at home. Recent studies point to clear links between a home that suffers from dampness and mold growth with developing asthma. Mold is one of the most common allergens worldwide.
Kids affected by indoor mold growth may have symptoms like:
Dry, itchy skin (dermatitis).
Coughing or wheezing.
Irritated eyes.
Nasal congestion (rhinitis)
Trouble sleeping
Who Else is Mold Likely to Affect?
Mold is a health concern for people of all ages, not just the youngest members of our family. Mold can cause all the same symptoms in adults as it does in children, leading to missed days at work and school and cognitive and behavioural changes. Mold can also aggravate and worsen chronic conditions that adults and elders suffer from — decreasing comfort and quality of life.
Why Get Rid of Mold
With all of these severe health effects in mind (let alone the damage to your home and property), the MoldTech team recommends having black mold removal as soon as you see evidence of infestation or suspect mold might be growing in your home.
Professional mold removal in Mississauga is the only way to safely and effectively eliminate mold and its toxic effects from your home and indoor air quality. At MoldTech, we use over a decade of experience, learning, and practice performing mold testing and removal in homes, condos, apartments, and commercial spaces — even schools! Eliminating mold from your indoor environment cleans up your air quality and results in healthier, safer places to live and play.
Contact MoldTech to book your mold test in Mississauga.