How You Can Test For Mold in Your Home
Published on March 16, 2023
Have you ever had your home tested for mold? If your answer is no, you're not alone — many homeowners think mold testing in Toronto is for people with water problems (like floods or leaks), older homes, or buildings with visible mold issues. Ask the technicians at MoldTech, however, and we'll tell you that's not the case! We've performed black mold removal in homes without visible signs of infestation, and mold tests on condos and new builds. No matter your home's age, size, or location, mold growth is a real risk factor — and here's the best way to test for it.
Signs of Mold Infestations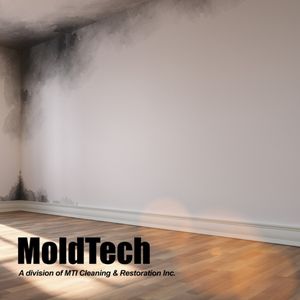 You don't have to be a mold expert like MoldTech to keep your eyes peeled for indoor mold growth. Some of the most common signs of mold growth are easy to detect with your senses, but they don't always appear — making professional testing a key part of prevention and treatment.
Some of the most frequent signs we find include:
Water condensing, pooling, leaking or dripping.
High indoor humidity.
A musty, stale odour.
Discolouration on walls or ceilings.
Allergic reactions, like sneezing, coughing, or headache.
3 Common Areas Mold Is Found and Why
The Bathroom: Water and steam make this a moisture-rich area.
The Attic: Heat rises, bringing humidity with it, and exterior problems (like roof damage) can affect your risks.
The Basement: Floods, drips, and poor airflow contribute to basement mold.
DIY Mold Testing Kits
Hardware stores now carry many different types of DIY mold testing kits. These kits are inexpensive and accessible, leading many homeowners to choose them over formal testing with professionals.
While the pros of choosing the DIY method include cost and ease of use, the cons can quickly add up. DIY mold tests are known for being unreliable and trigger-happy, yielding false positives or missing infestations entirely. When it comes to specificity, DIY tests rely on yes/no answers, which can be problematic if you need something like a black mold removal because of harmful mycotoxins.
Professional Mold Testing Services
Because of the risk of false positives, lack of specificity, and the ease of cross-contamination, MoldTech strongly recommends professional mold testing in Toronto if you suspect or wish to clear your home of mold growth.
Professional testing with MoldTech is non-invasive and takes a whole-home (not room-specific) approach to inspection. While we pay close attention to rooms and areas where mold grows more frequently, looking at the interior and exterior of your home can yield valuable clues to danger areas or problem spots. If you need more specific results, we can test any samples to reveal the type of mold and the concentration in your indoor air quality. Still, all the information we gather will help determine the best way to prevent future infestations and how to eliminate any current ones most effectively.
Mold testing in Toronto is effective, efficient and helps give you peace of mind. To learn more about black mold removal or mold testing, reach out to the MoldTech team to book a visit.