How to Stop Mold Growth in Your Home and Attic
Published on October 06, 2021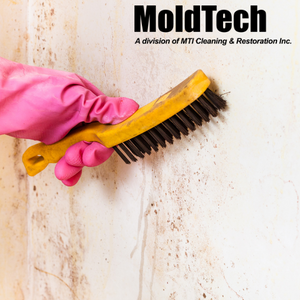 Mold is an unsightly and often scary problem to find in your home. Putting strategies and maintenance habits into place to help you prevent attic mold removal will save you a lot of trouble and stress. If your mold inspection in Toronto has discovered mold growing anywhere in your home, call the MoldTech team to learn more about mold prevention and removal.
How to Stop Mold Growth on Walls
Walls are one of the most common places to find mold growth, especially around windows, doors, or basements. It may grow on the surface of the wall or inside, between the studs. Mold eats organic material and often attacks the paper on drywall, wallpaper materials, or glue.
Wiping down a moldy spot may not be enough to get rid of the mold growth — we often find that it is more effective to remove an affected piece than try and treat it in situ. If you have water damage to your walls, the best way to prevent mold growth is:
Thoroughly dry the surface with fans. You may need to cut small ventilation holes through the drywall to promote air circulation inside the wall cavity.
Find and stop the cause of the mold. Mold inspection may be the only was to discover persistent, hidden issues, but if it's an obvious cause, solve it as soon as possible.
How to Stop Mold Growth in Attics
The attic is another common place for mold growth in the home, especially because it's often the least trafficked room of the house. Attic mold removal in Toronto is one of MoldTech's most frequently requested services, because while attics look simple, they're actually fairly complex environments that require careful mold inspection.
To prevent attic mold, we recommend:
Regularly inspecting your roof for damage.
Routing exhaust fans to the exterior of your home, not the attic.
Sealing air leaks and cracks that can introduce humid air to the attic.
Having an annual mold inspection to monitor for spores and hidden colonies.
How to Stop Mold Growth on Wood
Wood can be a tricky material to remove mold from because there is a lot of it in our homes! From studs to furniture, wooden items are porous and can soak up a lot of moisture, making them the perfect host for mold growth. If wooden things get wet, it's important to dry them out as soon as possible. It's often possible to use sandpaper to remove very new mold colonies — but it's best to ask for a professional's opinion first, since mold can penetrate deep into wood.
Stopping Indoor Mold Growth
If you suspect you have mold growing indoors, the best course of action is to book mold inspection in Toronto with MoldTech! We'll get the bottom of any strange smells, damp areas, or patches of discolouration, and help you remove mold growth for good. To ask about MoldTech's free visual mold inspection, get in touch with us today.