How to Know if Your Business Needs Mold Removal in Vaughan
Published on September 19, 2023
Keeping a business running involves lots of logistics — ordering inventory, paying invoices, working with clients and distributors, and taking care of your physical office, store, or warehouse. Adding mold removal in Vaughan is a task no business owner wants to add to this already full roster, but it may help your business thrive. At MoldTech, we've helped hundreds of companies remediate necessary equipment, clean up offices, and test for mold growth. Mold testing in Vaughan can help your staff and clients work in a safe and healthy environment — and help you avoid costly mistakes, delays, and repairs.
Sick Employees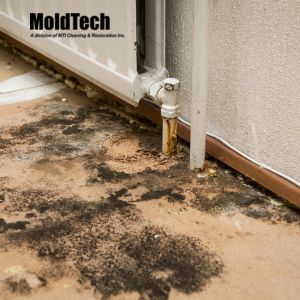 Most growth is tricky — it doesn't always make itself known and may lurk under flooring, behind machines, or in basements and ceilings. Therefore, the signs and symptoms of mold growth are essential to notice. The first sign is often increased absenteeism from ill employees. Working in a mold-affected environment can result in headaches, respiratory complaints, and inefficiency. Eliminating allergy-cause mold spores improves indoor air quality and promotes safer, better work.
Visible Mold
If you spot mold growing out in the open, it's vital to have professional mold removal as soon as possible. Removing it yourself or having maintenance staff deal with it opens the door to cross-contamination, increased spores (from improper handling), and increased damage from inappropriate equipment or chemicals. MoldTech is discreet, safe, and efficient — let us handle the mold before staff or clients see it.
Humidity or Water Damage
Moisture is the primary cause behind every mold infestation we investigate. Our number one mold prevention tip is to increase ventilation and clean up water or spills as soon as possible. Inspect pipes and taps, and insulate areas prone to condensation. Two quick and easy changes you can make today are using a dehumidifier to tackle basements or offices with high humidity and using tiny monitors placed in discreet areas to help alert you to changes.
Strong Odours
Mold has a very particular smell that is reminiscent of rotting leaves. If you notice this smell, we recommend having us come in for mold testing in Vaughan, especially if you cannot find the source or your facilities are large. MoldTech's sensitive testing equipment will look for mold spores, measure interior conditions, and monitor humidity. We also look at exterior conditions that may affect interior spaces to help us closely pinpoint the origin of any odours.
The Benefits of Working with MoldTech
For over a decade, the MoldTech team has worked with business owners and clients to eliminate indoor mold growth and help clean up workplaces. Together, we've helped offices develop mold prevention strategies, improve air quality, and safeguard equipment and merchandise. Creating a welcoming and supportive environment at work is more than fostering a positive workplace culture; it is also having a safe and healthy office to connect in.
While mold is common, it doesn't have to be a costly or disruptive problem for your office or business. If you discover mold at work, call MoldTech to book a safe and discreet mold removal in Vaughan.