How to Identify Black Mold In Your Bathroom
Published on August 09, 2022
The high humidity and presence of plenty of water make the bathroom a frequent candidate for black mold removal in many homes. Unlike rooms like the basement or attic, mold in the bathroom is easy to spot, and it's one of MoldTech's most frequently serviced areas! Mold remediation in Toronto is a safe and reliable method for removing black mold from tiles, grout, bathtubs, sinks, and walls. We can help you eliminate mold from the bathroom regardless of where it grows!
Why Does Black Mold End Up in the Bathroom?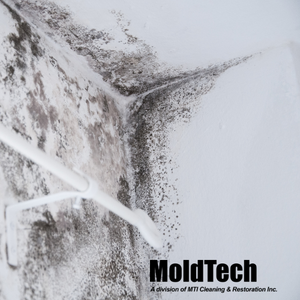 While mold grows around the home, there are a few good reasons why the bathroom is the perfect microclimate for mold growth. Bathrooms are often small enclosed rooms with limited airflow. If you're lucky, your bathroom has at least one window — but many don't. Mold needs water to thrive, and bathrooms have plenty of it! Drips from washing, splashes from bathing, and standing water in the toilet can all contribute to increased moisture and humidity levels.
Are you a fan of a hot, steamy shower? Then make sure you crack the window or turn on a fan — steam is one of mold's favourite ingredients!
Where Do You Find Mold in the Bathroom?
Mold is found all around the bathroom:
Under the sink or inside cabinets.
Near pipes and drains.
In grout, tiles, and caulking.
Around the bathtub or shower.
Around the window or doorway.
Around the base of the toilet.
How to Identify Black Mold?
If you spot black mold growing in your bathroom, the MoldTech team suggests having a professional black mold removal as soon as possible. While mold grows in many different colours, there are a few types of black mold that produce toxic byproducts that can make people and pets seriously ill.
Black mold may be dark green, brown, or red on closer examination and may have a slick, fuzzy, or smooth surface. Regardless of how it looks, quick mold removal is crucial to preventing adverse health effects or damage to your home.
Preventing Bathroom Mold
When it comes to mold growth, prevention is always the best approach! At MoldTech, we've been in thousands of bathrooms. Here's what we suggest you do to prevent mold from growing in yours:
Open the window when bathing or install an exhaust fan to eliminate hot and humid air.
Use a rug to catch drips and hang it outdoors to dry if it gets wet.
Fix leaks and insulate pipes to prevent condensation.
Regularly inspect taps, drains, and pipes to catch leaks.
Bring in a fan and dry out the bathroom as soon as possible after a flood.
How MoldTech Can Help Your Bathroom!
Let's get your bathroom sparkling clean and mold-free together! Whether you need to test for mold in the bathroom or have an infestation that needs remediation, the MoldTech team can help you eliminate bathroom mold for good. To learn more about black mold in the bathroom and our mold removal services, get in touch with the MoldTech team through our website.