How to Deal With Mold When Moving
Published on April 25, 2023
Moving into a new home is an exciting time as you nest, build new routines, and settle into a new neighbourhood. However, discovering mold in your new home can derail all this excitement and instead ramp up the stress — so book your attic mold removal in Mississauga before your move-in date and let MoldTech get your home squeaky clean! Mold removal in Mississauga is a safe and efficient way to eliminate indoor mold growth, which causes physical damage to your home and things and serious health effects.
When to Have a Mold Test When Moving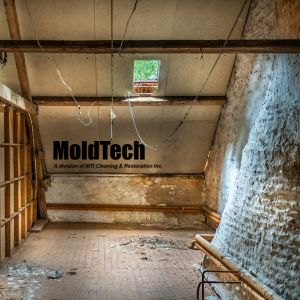 At MoldTech, we recommend mold testing in Mississauga during your pre-purchase home inspection or right after closing. This lets you get a baseline reading of your home, which can help monitor and track changes over the years. If we find mold, it also allows us quickly and efficiently remediate it before you move in — reducing disruptions to your routine and preventing any adverse health effects.
Where You Might Find Mold
Mold grows anywhere you find three key factors: organic material (like wood, paper, and textiles), moisture (water or humidity), and restricted airflow. Once you begin to think about these qualities, you realize they are found in many places around the home, such as:
The attic
Bathrooms
The basement or crawlspace
The kitchen
Laundry room
The Benefits of Mold Removal in Mississauga
There are many reasons we recommend professional mold removal in Mississauga. The main one is that mold doesn't always grow out in the open — it's often hidden underneath insulation, behind walls, in dark areas, or behind heavy appliances, making it impossible to spot with the naked eye.
Mold growth should be promptly removed because it can cause debilitating and disruptive physical effects for you and your home.
Mold growth causes allergic reactions such as:
Coughing
Sneezing
Headaches
It also damages the structure and elements of your home, such as:
Drywall
Joists
Insulation
Furniture
Windows and doors
These effects can lead to profound personal discomfort, illness, and expensive repair and maintenance costs. Getting rid of mold growth before it spreads out of control is only one part of what we do at MoldTech — prevention is our most important job!
How To Prevent Future Mold
Once your new home is clean and free from mold growth, the following steps are preventative. At MoldTech, every mold remediation in Mississauga comes with advice for mold prevention and analysis of the where and why of any mold infestations in your home. Sometimes the cause of mold growth is easy to determine: a spring flood, for example, is a common cause. For other houses, the problem may be caused by airflow, materials, leaks, or use — regardless of the reason, we'll help you get back on track.
While attic mold removal in Mississauga is one of the most popular services we offer, MoldTech helps families across Mississauga with basement mold removal, bathroom mold removal, and mold testing. To learn more about how we can get your new home mold-free, contact us online or by phone today!