How to Avoid Purchasing a Moldy Home
Published on October 06, 2022
Before you sign the paperwork for your new home, you'll want to ensure everything is in order — so that you don't need a surprise mold removal in Toronto after you move in. A professional mold inspection during your home inspection can save you the hassle and cost and the surprise of a mold remediation down the road. At MoldTech, we've helped dozens of homeowners carefully examine the most significant purchase most of us ever make, identifying problem areas or mold infestations that aren't apparent. Here are our top ways to avoid purchasing a moldy home.
Moldy Home Checklist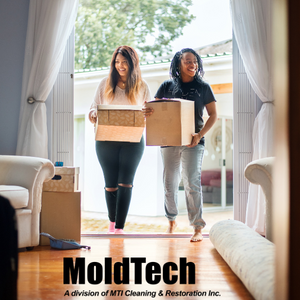 Here are some signs that you can look for, before buying a new home that indicate there may be a hidden infestation around your home.
Odours: A distinctly earthy smell is one of the easiest ways for a non-professional to identify a home with substantial mold growth. Mold has a noticeable musty odour that may be detectable in certain rooms or the whole house. This smell can help alert you to look closer or book mold testing during your pre-purchase inspection because even when the mold colony is hidden, you can often still smell it.
Water Damage: Another sign that may indicate mold problems is evidence of water damage. Look for the marks from past floods on the wall, or damp areas on the floor, around doors or windows, or in the attic. Water is the single most important ingredient when it comes to mold growth. Where there's water - even short-term moisture from a flood - there's often the need for mold remediation.
Condensation or High Humidity: Humidity can be challenging to detect without professional tools, but it's one of the clearest signs that mold lurks in a home. Humidity is vaporized water, which can travel much more freely around a building than in its liquid state. When humid air becomes liquid again, such as when it condenses on a cold wall, window, or roof, this water is often the catalyst for a new mold colony. Generally, MoldTech recommends people keep their indoor humidity (which can be monitored by inexpensive devices from the hardware store) between 40-50%.
Visible Mold: Sometimes mold grows out in the open, and it's easy for even DIY-hopeless folks to spot! Mold can have many different colours and textures and usually appears on organic materials like wood, drywall, paper, and textiles. If you see mold growth out in the open, it usually means there's more hidden away. However — beware of harmless inflorescence, which is commonly found in basements. When in doubt, skip to the next step!
Call a Professional for Mold Removal in Toronto
There are so many things to remember when buying a home that mold inspection is often last on the list of priorities. This is where MoldTech can help! After over a decade in the field of mold testing and mold removal in Toronto, we've perfected the science of inspecting homes for mold growth. Using an arsenal of tools, equipment and methodologies perfected through on-site and in-class learning, we've assessed thousands of homes throughout Toronto and the GTA. When looking for a new home, mold can be a red flag — but it doesn't have to mean walking away from your dream home.
To learn more about MoldTech and our mold remediation services, reach out to us online or by phone.