How Does Mold Get Into My Attic?
Published on November 12, 2021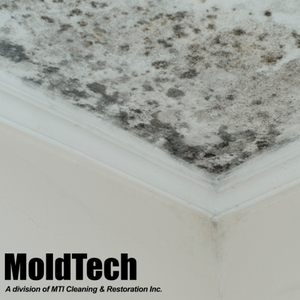 Mold can be found in your home wherever there is moisture: the basement, the kitchen, the bathroom, and the attic are all familiar places that MoldTech discovers infestations. Attic mold removal helps get your home back on the right track, removing active and dead mold colonies and helping find the source of the moisture. Not sure if there's mold? Mold inspection in Toronto can detect hidden colonies and issues tucked in gables or corners.
What Causes Attic Mold
There are two main reasons we discover attic mold in Toronto. Paying attention to and improving these two faults prevents most attic mold cases, saving you time, money and stress.
Ventilation Issues
The first most common cause of attic mold issues is ventilation — or a lack thereof. Contrary to the rest of our homes, your attic shouldn't be shut tight against the weather. Instead, it needs to breathe, with air moving in and out constantly to prevent heat buildup. Warm air can hold more moisture, which can then migrate onto surfaces like insulation or roof sheathing in the form of condensation. In a warm, poorly ventilated attic, moisture doesn't have a chance to dry out, so it can quickly help form mold infestations.
Leaks
Another common reason for attic mold growth is leaking. The two most common causes for attic leaks are pipe leaks and roofing problems. Storms, shingle age, and low-hanging trees can all cause surprise damage to your roof that lets moisture enter. Some attics even have piping or old boilers tucked under the eaves, all of which can spring a leak.
Professional Mold Inspectors
What should you do if you suspect mold is growing in your attic? Call MoldTech for a mold inspection in Toronto, that's what! Because mold can carry serious health risks and is very easy to spread, professional mold inspection is worth the cost and effort. We'll bring our professional-grade tools and equipment to have an in-depth look at your attic and get to the root of your concerns. We can determine if there's mold, how much is present, and even what type. Most importantly, a professional mold inspection will tell you why the mold is growing in the first place, giving you the knowledge and support to solve the problem for good.
Attic Mold Removal In Toronto by Professionals
Attic mold removal can be uncomfortable and challenging work for a novice — and result in more significant problems should there be a misstep or accident. The MoldTech team has decades of experience eradicating mold in tight, hot, and challenging attics. We've got specialized tools to help us reach the most awkward corners and navigate uncertain footing, all while keeping our intrusion to a minimum and safety at its utmost.
Whether you're worried about the future or need help today, MoldTech is here for you! To learn more about our complete home services or specifically about attic mold removal, call or reach out to our technicians today.