Does an Air Purifier Help with Mold Removal in Vaughan?
Published on May 26, 2023
A musty, damp odour is one of the most common signs that you need mold removal in Vaughan. Many MoldTech clients ask us if an air purifier might help with this smell and whether these popular machines help with mold removal. Today we will share some of our knowledge about air purifiers, why you should have mold testing in Vaughan, and why mold needs professional removal.
What's an Air Purifier and What Does It Do?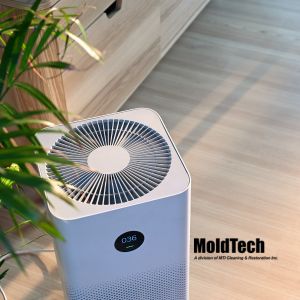 Whether you plan on having a mold inspection in Vaughan or not, an air purifier may still help to protect and clean your indoor air quality on a short-term basis. Air purifiers are mechanical devices that run air through a cleaning system to filter out impurities. They can be stand-alone units or be installed alongside your HVAC system. They can help reduce indoor allergens, pollutants, and particles like mold spores, leaving you with a cleaner and fresher indoor air environment.
How Air Purifiers Work
Different types of air purifiers on the market may suit your home, needs, and budget. Some popular types work by using technology like:
Ultraviolet rays
HEPA air filter systems
Activated carbon
Ionic air filtration
Electronic elements
Air-to-air exchangers
Do Air Purifiers Remove Mold?
Air purifiers are great tools for cleaning your indoor air environment and are an excellent stop-gap method while waiting for mold testing in Vaughan. But air purifiers are not a long-term solution — they only remove some (not all) of the mold spores in your home and do not address or remove the parent mold colony producing all the spores.
The Limitations of DIY Mold Removal
If your mold inspection in Vaughan finds a mold colony in your home, MoldTech always recommends professional remediation as the next step. While many folks are tempted to try DIY mold removal, it's an inefficient and often dangerous practice. Mold spores are extremely easy to disturb and act like seeds that spread the colony. Household cleaners and DIY solutions never work correctly and may pose a health risk or cause more significant damage to yourself or your property.
Professional Mold Remediation
At MoldTech, we have many tools, methodologies, and scientifically-backed protocols that we follow during every mold removal in Vaughan — and air purification is one of them! We use industrial-strength HEPA air purifiers after we contain and separate the area we're treating for mold. This captured any disturbed mold spores while working, so we leave you with a clean and 100% mould-free environment.
When you have a professional mold inspection and removal, you also benefit from our specialist knowledge regarding types of mold, how best to remove them, and why they appeared in the first place. While air purifiers may help reduce day-to-day spore counts, they don't address the root of the issue. Prevention is a key part of professional mold removal that is often forgotten, even though it's an equally valuable part of our services.
To learn more about air purifiers, mold testing in Vaughan, or any of MoldTech's services, contact our team online or by phone today.