Complete Guide to Home Mold Removal in Toronto
Published on October 26, 2021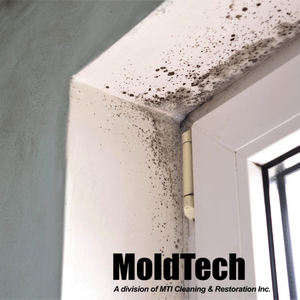 Mold is an understandably scary problem to find in your home, which is why MoldTech'created this guide for understanding mold removal in Toronto and the GTA. Its purpose is to provide homeowners with accurate and experienced information on the basics:
What is mold.
How to prevent it.
How mold testing in Toronto can locate hidden mold.
We made this guide after more than a decade of experience helping families recover from the problems caused by mold growth — keep reading to find out more.
Mold Basics
Here are a few quick facts about mold:
It's part of the fungus family and is a cousin of the same mushrooms you can find at the grocery store.
Mold feeds on organic materials like wood, paper, and textiles.
There are thousands of different kinds of mold species that can have varied health effects.
Mold comes in the colours of the rainbow, though green, brown, white, black, and red varieties are the most common.
Mold thrives in damp environments.
A year-round problem, some molds grow just as well in near-freezing temperatures as hot, humid ones.
Prevent Mold Growth with Moisture Control
The adage "an ounce of prevention is worth a pound of cure" rings true for mold growth as it does for our health (the two are even related!). Preventing mold growth may look different from home to home, but in MoldTech's experience, moisture control is the single most important part of every mold prevention strategy.
Moisture can enter our homes in many ways:
From the outdoors.
Through bathing or cooking.
By accident.
However it arrives there, moisture feeds and encourages mold growth to take root in your home. Here are five strategies we like to suggest to prevent excess indoor moisture:
Balancing indoor humidity at around 30-50%.
Maintaining pipes and fixing leaks.
Promptly cleaning up and drying out drips, spills, or floods.
Installing a dehumidifier in spaces without good ventilation, like the basement.
Installing exhaust vents above the stove or in the bathroom to remove moisture-rich air.
What to Do About Hidden Mold
It would be polite if mold always grew out in the open, where it was easy to see, discover, and remove — but it's not. Mold is sneaky and likes to grow behind walls, underneath carpets and flooring, and in other places where it can grow undisturbed and unchecked, such as the attic. This habit is what makes mold testing in Toronto an invaluable tool in discovering hidden mold growth.
At MoldTech, our comprehensive visual and physical mold inspection can help identify areas at risk or suffering from mold growth. We use specialized tools and equipment to test relative humidity or peek behind walls and into attic corners. Through sampling, we can differentiate between types of mold and monitor spore concentration — all things that will help provide you with a safe and effective mold removal in Toronto and the GTA. To learn more about MoldTech and our services, reach out to our team.