4 Causes of Mold in Attic Spaces
Published on May 10, 2022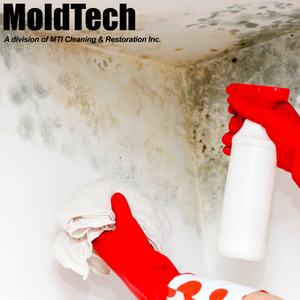 Many of MoldTech's past clients came to us for a widespread need: attic mold removal. Mold in the attic is a prevalent issue across Toronto and the GTA for a many reasons, including the four we're going to tell you about now. But let's start with good news — attic mold can be easy to remediate and, most importantly, is easy to prevent. If you're concerned about your attic or have wondered what is going on up there, here are a few common reasons we see mold growth in attic spaces.
Causes Of Attic Mold
1. Bad Ventilation
Mold thrives in rooms where air doesn't move — that's why it's also common in basements, where there are fewer windows and less airflow than ground level or upper floors. Ventilation helps move moisture-laden air out of rooms, preventing it from condensing on surfaces where there may be mold spores.
Attics in Toronto often have mold problems because of blocked soffits, drifting insulation, or a lack of vents, preventing healthy air circulation. A good attic breathes — it doesn't need to be as tightly sealed as main rooms.
2. Roof Leaks
How does water get into the attic? One of the most direct ways is by damage to the roof. Roof damage can happen after storms, from aged shingles, or by abrupt temperature changes. Low-hanging trees and other geographic features may also promote roof damage or moisture build-up.
3. Improper Insulation
Ventilation problems and roof leaks can cause or be impacted by insulation problems. Mold in the attic is usually caused by two or three issues that exacerbate and promote ideal growing conditions. Old, shifted, or degraded insulation is often one of the primary reasons for attic mold growth. It can act as the growth medium, promote poor ventilation, and be affected by roof leaks. A certified insulation contractor can help advise you whether a full or partial insulation replacement can help your home.
4. Fans Vented into the Attic
A big red flag is when exhaust fans end in the attic. These fans work to eliminate moisture-filled air from rooms like the bathroom, but they do no good if they dump that air into the attic! Ensure your fans are vented out of the house and do not end in the attic. Otherwise, they serve only to guarantee you'll need attic mold removal in the future.
Fix Attic Mold For Good
Professional mold testing with MoldTech eliminates the difficulties of identifying and finding mold in the attic. Our science-based testing and experience working in various residential and commercial spaces mean that we can easily pick up on subtle signs and symptoms that the average homeowner wouldn't detect. Mold growth often has cascading effects in other rooms, making early detection and remediation crucial. If you have questions about attic mold removal, the MoldTech team would be happy to walk you through the process — contact us by phone or email, or visit any of our service pages to learn more.