Attic Mold Damage Tips
Published on June 06, 2022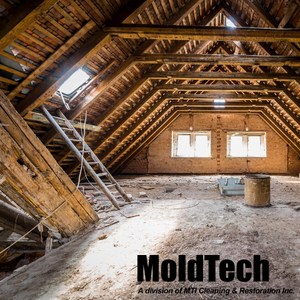 Mold spores are tiny and nearly invisible, yet they can cause outsized damage in the attic and require mold remediation. At MoldTech, we've been helping families avoid this fate by offering mold inspections in Toronto. This safe and effective service for attic mold removal can detect small concentrations of spores and identify the conditions that make attic mold growth more likely.
Here are some of the top questions we get about attic mold growth in Toronto.
What Will Mold Inspections in Toronto Tell You?
What is an attic mold inspection? At MoldTech, this means a couple of things to us. Firstly, it involves a thorough visual and physical inspection both inside and outside of your home. It may also involve biological or air samples, tests with sensitive machines, and a look at conditions like ambient humidity. Many factors affect the likelihood of mold growth and may contribute to its development and spread — a mold test in Toronto can tell you these things, and more.
How Can Mold Damage Attics?
Mold damages both the structure and function of the attic. Mold feeds on and breaks down organic materials like wood and cellulose insulation. The degradation of these materials can cause structural weakness or contribute to problems like roof decay, leaks, pests and more.
How to Minimize Damage
Nobody wants an expensive attic mold removal bill — and like our own health, your best weapon is prevention. At MoldTech, we suggest yearly mold testing for your whole home, especially for those that are old or are located in areas prone to floods. Early detection is key to minimizing the damage from mold growth.
Stay Safe With Attic Mold
What if you do have mold in the attic? The first thing we recommend is to call a professional mold remediation company in Toronto — like MoldTech! Mold is very easily spread and can be tracked elsewhere on clothes, shoes, and tools. DIY mold removal is one of the most common reasons clients call us because, despite their best intentions, their efforts often go very wrong.
Mold can also be toxic and will cause allergic reactions in most people. Installing protective barriers and starting air filtration and other safety measures is MoldTech's first order of business. We also wear personal protective equipment and safely dispose of any affected materials.
Why Choose MoldTech?
With hundreds of mold removal companies in Toronto, why choose the MoldTech team? To begin with, we've got over a decade of service in the mold removal field — there wasn't even a mold remediation section of the phone book when we started! We're at the top of our field regarding experience, safety, and customer service. We have worked with many clients, from homeowners and small businesses to government contracts and large warehouses.
We've worked in hundreds of homes, removing attic mold, basement mold, bathroom mold, and more. Mold inspection in Toronto has helped hundreds of homeowners improve their home's health and safety and reduced their risk of expensive damage. To learn more about what we offer, reach out to the MoldTech team today!