5 Signs to Avoid Buying a Moldy Home
Published on September 01, 2022
Buying a new home is equally thrilling and terrifying — after all, it's the largest purchase of our lives and forms the intimate space of family life. That's why looking closely at the home you're buying is so important, because nasty surprises like mold growth or water damage can quickly tip the happiness scale. Our thorough visual and physical mold inspection will examine your home from top to bottom and root out any hidden infestations. Services such as attic mold removal can be completed before you move in or performed with minimal fuss or disruption.
Tackle any surprise problems early by booking a mold inspection with MoldTech!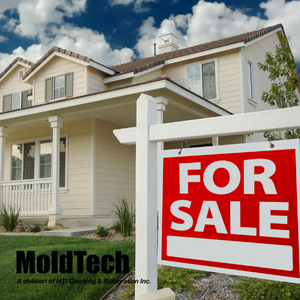 The best way to prevent the need for mold removal is to keep your eyes peeled for warning signs during your initial inspections. Mold can be easy to miss because the signs are subtle and often grow hidden behind walls, carpeting, or flooring. At MoldTech, we've honed our mold detection skills in over a decade of practice — so we've learned a thing or two! Here are our top 5 signs that you may need attic mold removal.
Here are five telltale signs of mold to watchout for when house hunting.
A Funny Smell
Mold has a unique odour that is similar to rotting leaves. This musty, dry scent may be the only sign of mold growth in a home and should ring your warning bells. If you smell mold, keep your eyes peeled for evidence of the following signs.
Existing or Past Water Damage
Where there's water, there's mold! One of the first things MoldTech technicians look for when performing a mold inspection is water damage. Water from leaks, spills, or floods is all it takes for many mold infestations to take hold, and homes with chronic problems (such as in our third warning sign!) are especially prone to mold growth. Look for soggy areas, condensation, water marks, or puddles.
Humidity and Ventilation Problems
Related to physical water is its airborne counterpart, humidity. Homes with high humidity almost always have mold issues because water never stays airborne for long — it eventually condenses on surfaces as temperatures fluctuate. The best way to eliminate humidity is by increasing airflow and ventilation, which is also why stuffy houses suffer from mold growth.
Visible Mold Growth
If you're lucky, you'll be able to spot mould patches and do some detective work yourself. But know that mold inspection is still the best way to make accurate diagnoses — mold look-alikes such as inflorescence may fool you!
Condensation
Damp walls and condensation on windows or around doors are clear signs of humidity and ventilation problems — and may indicate cracks in your home's building envelope that are letting in moisture.
Mold Inspection & Mold Removal
Don't panic if you've fallen in love with a home with signs of mold growth! MoldTech is here to help with safe and reliable professional mold testing in the GTA. Let us take a look during your pre-purchase home inspection or after you move in, and we'll help you come up with a mold removal plan.